REAL MADRID | JUAN ONIEVA
Onieva: "Florentino's ultimate goal is to own Real Madrid"
An interview with the finance director of Real Madrid under former president, Lorenzo Sanz, who lost the 2000 election to Florentino Pérez.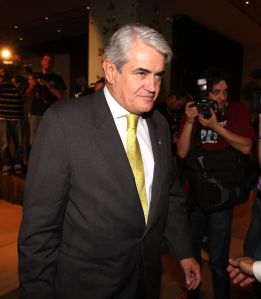 Have you seen Real Madrid's accounts?
Yes, as well as what the financial experts say about them. I remember that one of the Florentino's principles when he arrived at the club in 2000 was the need to eliminate what he called the "scandalous debt". And the truth is that, having received 800 million euros for the rezoning of the old training grounds [which were sold, with four skyscrapers being built on the land], Madrid now has more debt than ever. It's a demonstration of the failure of his management.
How much debt did Sanz, and therefore you, leave the club with?
Half of what the club has now! 260 million euros or something like that. And 50% of that amount was for the repurchase of image rights, which was vital for Madrid to be able to increase its income.
Go on...
Mendoza had sold, in what was called the 'Dorna contract', all image rights, sponsorship rights, marketing rights... he'd even sold the rights to run the cushion hire in the stadium [you can indeed hire a cushion at the Bernabéu for a comfier watching experience].
And you bought these rights back?
We paid more than 13,000 million pesetas and got back the rights Madrid should never have sold.
How would you rate Florentino's management then?
I'm certain that the ultimate goal of Florentino is to convert the club into a PLC and end up controlling it. That's why he's taking the debt to its limit. It's an old plan of his from the year 2000. His economic management is a pre-conceived plan. What he didn't expect was the failure on the pitch.
But Florentino never tires of saying that he has come back so that the Club can belong to the members.
There's a old tale that says if you are in the countryside and you are by a pond and there's a bird there, with a yellow beak and webbed feet and it flies off saying "Quack-quack", don't bother saying it's a cat, because it's clearly a duck. Well it's the same here. This isn't a question of opinions, but of facts. The debt is scandalous and the 400 million euro project to renovate the Bernabéu is absurd. At the end of the day the debt is going to be 1,000 million euros and Florentino is going to say: "I never wanted this to happen, but...". It's a duck, simple as that.
Will Project Bernabéu be similar to what happened with the old training ground?
What I've read is that it's going to have consequences within the EU. They said that the EU wants to turn the clubs into PLCs. That's been shown to be a lie, it was just another reason to justify the change. The European Commission is now investigating whether there has been illegal funding of certain clubs. It's a preconceived plan...
Do you think Florentino sold Özil to square the accounts for Bale's signing?
More than that I think it was to have an accounting profit for next season and to give Isco a free run, because the fans prefer him. Just like he's given Benzema a free run by getting rid of Higuaín. The sporting side is a disaster. Since he binned Del Bosque he's spent nearly 1,000 million euros in signings to win a League and a Cup. I keep thinking that he reminds me more of Gil every day with his "big sporting projects". And each one of them requires a huge investment. Everything has a limit, even Madrid.
For Florentino, Bale was "cheap"
If he doesn't know anything about football how is he going to work out if he was cheap or not? He hasn't started playing yet. Nobody is arguing about his quality, but he's been at a middle-of-the-road team his whole life and has barely played in Europe. And he plays for a small country. He's unproven. Florentino's sporting philosophy is based on a lie: a comparison with Bernabéu. Look, Puskas was free, Gento practically free, for Di Stéfano they paid very little because of the controversy with Barça. He thinks that a football team is like a collection of cars: I'll get a Ferrari, a Maserati and a Mercedes. But building a competitive team is more complicated than collecting players. And it's worse when you spend 100 million in a player (Bale) knowing he has a chronic injury.
But hang on, Pérez says "these signings underpin the financial-sporting model of the club"
That just shows how little he knows about what a team is. You sell shirts based on sporting success. We're the only big European club who haven't played a Champions League final since 2003. I want everyone to see that. It's a complete sporting disaster. For the president of a team like Madrid to be happy with reaching a few semifinals beggars belief. We've got the biggest budget in the world!
Be honest, you sold Seedorf because you couldn't pay the players?
That's not true. I won't deny that the money came in handy, but Seedorf had a big problem with Toshack, who didn't see him in his plans. Look at the archives. The fans were singing "Toshack no, Seedorf yes!". That's why it happened. A good offer came in from Inter and that's why he was sold. But I won't lie, the money was useful.
What effect did buying Anelka for 5,000 million pesetas have then?
It was a lot of money, but we sold him for 5,500 million. I don't think that's comparable to Bale and Özil. We made a mistake with Anelka and got our money back. Florentino made a mistake with Kaká and lost 67 million euros.
It's not true you couldn't pay the players?
That's a lie that's been circulating ever since. It's not true. The economic situation was tight, but we paid everybody. If not, when we left, they would have demanded guarantees from us.