SPAIN | INIESTA
Sell out in Albacete to see Iniesta play for Spain
The Barcelona player was born in a nearby village. This will be the fifth time Spain have played in the Carlos Belmonte stadium.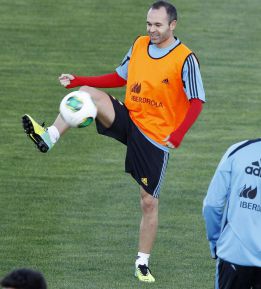 The people of Albacete in Castilla-La Mancha will be out in force tomorrow to support Spain and their very own Iniesta, from the village of Fuentealbilla half an hour up the road. The Carlos Belmonte stadium is sold out with 17,000 ready to watch 'La Roja' take on Georgia. In fact nearly all the tickets were snapped up two weeks ago. There is still some hope though for those desperate to see the World Cup winners, with a precious few tickets going on sale tomorrow morning, after the Spanish Federation return the ones they don't need for their official commitments.
The atmosphere in the city as of today will be spectacular, with tributes being paid to the Spanish side in general and Iniesta in particular. Today at midday, once the national side arrive in Albacete, Iniesta, Del Bosque and the team captains will head to the 'Espacio España' to be honoured. The Spanish federation is also setting up a mini theme park in Abelardo Sánchez Park which will include the three big trophies won by the side in recent years.
This will be the fifth time Spain have played at the Carlos Belmonte stadium, with Israel, Ireland, Russia and Armenia the sides visiting before Georgia's trip tomorrow. Spain are on the brink of qualifying for the World Cup in Brazil and will ensure they are South America bound provided they pick up at least a point.
Iniesta will no doubt receive a huge ovation when he runs out before his fellow manchegos and not just because of his origins. When Albacete Football Club recenlty dropped into the Segunda B the Barcelona player and his family rallied round to help the Queso Mecánico (Mechanical Cheese, their nickname). So far they are the only ones to have put their money where their mouth is.
The midfielder in fact made his debut for Spain in Albacete, in a friendly against Russia on 27 May 2006. The game ended 0-0.
Two years later, in qualifying for South Africa Spain were back here, beating Armenia 4-0. Once qualified they made it to the final, where a goal from a local lad, in extra time against Holland, gave Spain the World Cup...