REAL MADRID | LEWANDOWSKI
Real Madrid set sights on signing Lewandowski in January
The Polish striker has a verbal agreement with Bayern Munich, but coach Pep Guardiola has had second thoughts, which has put Madrid on the alert.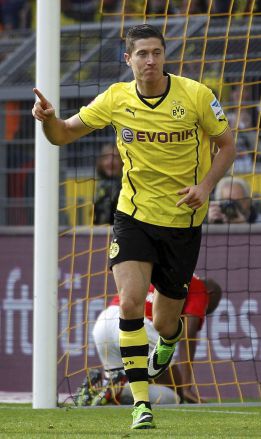 Madrid have set their sights on capturing Borussia Dortmund striker Robert Lewandowski in January. AS has learnt that, despite the verbal agreement he has reached with Bayern to sign for the Bavarian club next summer (he will leave for free as his contract with Dortmund expires in June), coach Pep Guardiola has had second thoughts about him and has put the breaks on the deal. Madrid are well aware of this and are monitoring the situation. If Karim Benzema's attitude or goal tally doesn't improve, Los Blancos will try to bring the Pole to the Bernabéu in January, even though he won't be able to play in the Champions League, as he has already played in the group stages of the tournament for Dortmund.
The 25-year-old's low price attracts Madrid. Owing to the fact that his contract with Dortmund runs out in June, Madrid could get their hands on the forward who scored 39 goals in 56 games last season - he's scored nine goals in 13 games this term - for as little as 10 million euros. Jurgen Klopp's side are keen on the option of selling to Madrid, because they are already resigned to losing Lewandowski, and would rather see him go abroad than join their main rivals in the Bundesliga. Madrid expressed interest in the forward last summer, and the player revealed that after his side (and his goals) had knocked Madrid out of the Champions League semi-finals, he spoke with Florentino Pérez in the Bernabéu dressing rooms.
Radamel Falcao is also on Madrid's agenda. The Colombian has allowed himself to be courted by Madrid. AS reported on 11 May that the former Atlético striker had a clause in his contract with Monaco that would allow him to move to Madrid if Los Blancos made an offer for him. But the player Madrid want most is Sergio Agüero. He is Florentino's dream buy for next summer. Madrid had the deal sewed up in 2011, but it fell through due to a pact the club had made with Atleti's chief executive Miguel Ángel Gil Marín to not sign any Atleti players, meaning the player had no choice but to join Manchester City. The Argentine has never hidden his desire to play for Madrid, remarking last year after City's defeat to Los Blancos at the Bernabéu: "If Madrid had made an offer for me, I would be here now."