REAL MADRID
"If Madrid's debt keeps growing, they'll have to become a PLC"
The football economist José María Gay de Liébana spoke to AS about Real Madrid's debt, which he calculates to be 541 million euros.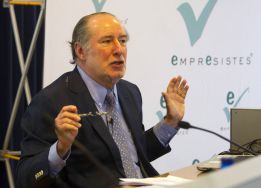 Let's cut to the chase..
Real Madrid effectively have a debt of 541 million euros, which represents 64% of its total liabilities. That's a pretty large debt.
Especially large?
And the club has a problem, which is their level of short term debt, currently at 338 million euros, which is greater than their current or floating assets, which total 239 million euros. So that's a negative working balance of 100 million euros.
Is that a problem for the club?
It's true that Madrid have a large cash flow, 156 million euros at the end of last season. That's all liquid assets. I presume that it has increased since 30 June with the sale of players, but they should not abuse their balance. If you look at Arsenal or Bayern Munich, the two reference points in terms of financial management, they have positive working balances.
How did the club accumulate such a large debt?
The 541 million debt has come about from excessive investment. We don't need to emphasise that an entity has a very large debt, what we have to do is ask ourselves why it has such a large debt. And it's all down to the huge investment the club has made on players. For example, by the end of last season, there was a total net-spend of 267 million euros on the squad. That figure was calculated after amortization and after taking into account the devaluation of players. Without amortization, we're talking about a total investment of 588 million euros. I think that with that amount of money Madrid should have swept away Elche, when you consider they invested just 50,000 euros in players.
And that's without even considering Bale, Illarramendi and Isco..
You have to add the price of those players to the 588 million, so we're looking at around 700 million euros. It's an enormous amount of money that obliges you to win everything. It cannot be that a club that spends so much money doesn't win the Champions League. You have to win the league and the Champions League with that amount of money, and leave the Copa del Rey for Espanyol (the team Gay de Liébana supports).
If the debt keeps growing, is there a danger that Madrid will no longer be owned by its members?
Absolutely. They will get into a situation whereby they would have to become a PLC, and would have to change the club's statutes.
That's no trivial matter...
No, the fact that Madrid are already have a substantial debt yet have big plans for their stadium could lead to them ending up to their eyeballs in debt, to the point where they would have to be converted into a PLC and start to provide capital. It then remains to be seen whether Real Madrid members are willing or able to provide money, and if not, then a benefactor will have to. Another 'sword of Damocles' that could affect Barça, Osasuna and Athletic Club is whether the European Commission starts to realise: "Hang on a minute, these clubs are benefitting from more favourable tax conditions". The Commission is also concerned by the share of television revenue in Spain. The two issues are related to competition. They could say: "Hang on, this isn't working well, and it doesn't go on in the other big leagues."