REAL MADRID | CRISTIANO RONALDO
CR7: "Eusebio shouldn't be sad, fans always compare players"
Speaking at Portugal's training camp, the Real Madrid forward said: "Records are there to be broken, but Eusébio will always be up there with the all-time greats."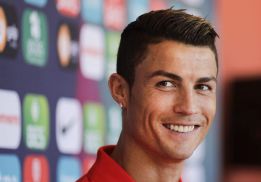 Cristiano Ronaldo could become Portugal's all-time top scorer in the next week, as his country prepares for their final World Cup qualifiers, at home to Israel on Friday and Luxembourg on Tuesday.
The Real Madrid forward has scored 43 goals for Portugal and is just four goals behind Pauleta.
By soring a hattrick in a 4-2 win over Northern Ireland in September, Cristiano beat Eusebio's goal tally for Portugal, prompting the 71-year-old to remark the next day: "It's sad they make that comparison, it's easier now, I never got to play against Azerbaijan or Liechenstein."
However, speaking at a press conference while at Portugal's training camp, Cristiano responded:
"I don't think he should be sad, records are there to be broken.
"It makes sense, because Eusébio will always be Eusébio and Cristiano will be Cristiano. It's normal that people compare us but Eusébio should not be sad because he'll always be up there with the all-time greats.
"What I want is to try and play 100 more games with Portugal because nobody will be sad about that."
The Portugal captain added that he was confident about his side's possibilities of winning both their remaining games.
"I'm certain we'll win. We have to win both games, we are the favourites and we're going to go onto the pitch to give the best we can so we are guaranteed of the six points."
If Portugal beat Israel, they will be guaranteed a place in the play-offs.
However, if they are to be assured of an automatic spot in the World Cup, then they must win both games and hope that Russia, one point clear of them at the top of Group F, slip up away to Luxembourg or Azerbaijan.
"We have to win both games and then wait and see how Russia get on," said Cristiano.
"I'm going to keep giving everything I've got. I don't think this year has been too different to previous years with Portugal or Madrid, I'm scoring the same amount of goals and I always try to do my best. All the top players who play for the top clubs understand the responsibility that comes with playing for your national team. We have two games left and if we don't win them then it won't be worth thinking about the World Cup. I don't think they are easy games and we're ging to have to give everything if we are to win, but we have the better team and we have to prove it on the pitch. We have a very good chance of winning."