SPAIN
RFEF set to offer Del Bosque two-year contract extension
As soon as World Cup qualification is secured, the Spain coach will be offered a new deal until Euro 2016. The 62-year-old is inclined to stay on.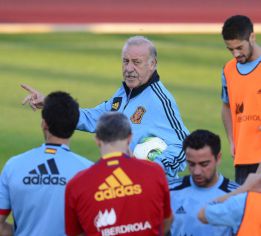 The Spanish Football Federation (RFEF) will offer Spain coach Vicente del Bosque an extension to his current contract once his side ensures qualification for next year's World Cup.
The world and European champions take on Belarus on Friday and Georgia four days later in their final two Group I encounters, with four points from six enough to seal their ticket to Brazil 2014.
The terms of Del Bosque's new deal are already in place. The RFEF's secretary general, Jorge Pérez, told AS on Tuesday that "Del Bosque is part of Spanish football's heritage". Pérez also declared: "We haven't considered any other alternative for the post of coach. Del Bosque will stay with us as long as he wants and for as many years as he wants."
The president of the RFEF, Ángel María Villar, has a policy of offering an automatic renewal, in two-year cycles, as soon as his coach achieves qualification for the European Championship or World Cup. Villar wants Del Bosque to remain in charge until Euro 2016, which will be held in France. The tournament will also coincide with the end of Villar's term as RFEF chief, although the 63-year-old could leave a year early if he decides to run for the FIFA presidency in 2015.
Del Bosque has overseen 80 matches as Spain boss – more than any other coach in the country's history, ahead of László Kubala (63) and Miguel Muñoz (63). The former Real Madrid coach also boasts the best record at the helm of 'La Roja': 65 victories, eight draws and just seven defeats. With 197 goals scored and 53 conceded, Del Bosque has delivered success at World Cup 2010 and Euro 2012.
The 62-year-old has been kept abreast of the RFEF's contract plans, commenting: "I'd like to continue. I'll do whatever the Federation wants." However, his decision will not be immediate. His initial intention is to qualify for the World Cup and deliver a good performance in Brazil. Then, if there is general agreement, he will commit until France 2016.