CELTIC - BARCELONA | TATA
Tata Martino: "Neymar may play as a false number 9"
Barcelona's Argentinean coach faced the press before the Champions League game against Celtic on Tuesday evening.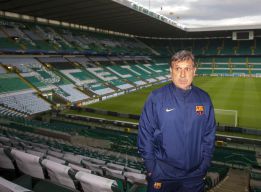 With no Messi, injured against Almería and out for two to three weeks, Barcelona coach Tata Martino is thinking about how to line up against Celtic in their Champions League match (tomorrow at Celtic Park). Here's what he had to say to the press:
No Messi:
For any team in the world it would be difficult to replace Messi, even though we've got a great squad with outstanding players. We need to play well, even with him missing. I'm not sure it's a test to play without him though, we've done it before.
Celtic defence:
Everyone is taking it for granted that the game will be like the one last year. We need to be more accurate and faster in our build up play. It would be good for us to control the ball.
Fàbregas as a false number nine:
He's great at linking up with the three behind and he sets his team mates up really well. With Leo we cause the opposition problems in the last 25 metres.
Neymar up front:
The season is very long and there will be times we don't have Leo. Neymar can't be ruled out, just as Alexis can't be. We've got various options and we'll see which one is the best. It's not always going to be that when Messi is out Fàbregas replaces him.
Last year, defeated here:
I don't think the players want revenge, rather just the chance to put things right. Barça are expected to play well. We're constantly under microscopic scrutiny. There's a lot to think about, but we need to focus on what's ahead, not think about what happened last year.
Being at Barça:
I'm trying to adapt to everything that surrounds being at Barcelona. I've been coach for two months but I'll still be feeling the same way for a while yet. But what's important for me is that we've won all our league games, we won in the Champions and we won the Supercopa. That said, I'm demanding more from the team. We need to get better and better, there's no going back.