BARCELONA | ROSELL
Sandro Rosell faces no-confidence vote tomorrow
Rosell stands accused of allowing Qatar into the club, the failure of the supporters' zone and the dismissal of Eric Abidal.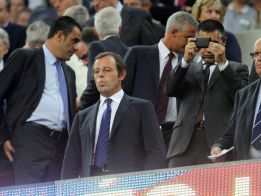 Various Barcelona members, some with links to club ex-vicepresidents Ferran Soriano (now CEO at Manchester City) and Marc Ingla, are planning to present a vote of no-confidence in current president Sandro Rosell along with four of his managing team. In spite of the fact that things are going well on the pitch (joint league leaders with Atlético having won the first seven games and with Real Madrid five points behind them) the group believes it's time to make a stand and demand a debate on the Presidency of the club.
The group are fighting against the clock, as next Saturday the Members will vote on changes to the club statutes, one of which would make votes of no-confidence almost impossible, as it would push the number of votes required to table such a motion from five to 20 per cent.
Rosell will be accused of three main issues that have affected the club while he has been at the helm: allowing Qatar into Barcelona, the failure to create a supporters' stand, and the painful dismissal of Eric Abidal after the club's doctors recommended his contract not be renewed after his liver transplant.
The aim of the members who will bring the vote of no-confidence is to make Rosell and his inner circle (Javier Faus, Jordi Cardoner y Josep María Bartomeu) pay for each of these situations.
Faus is economic vicepresident and one of the people directly behind the arrival of Qatar at the club; Cardoner is responsible for the club's Community Section and one of his functions was to bring youth fans together at the Camp Nou in one stand, however the Catalan police vetoed the idea believing it would only assist the Boixos Nois, the Crazy Boys, a group of ultras. Bartomeu is one of the men closest to Rosell and is in charge of professional football at the club, though he had little to do with the dismissal of Abidal: he received the medical reports and had to inform the footballer that both the doctors and the coaching staff considered that he had no future at the club.