REAL MADRID | DI MARÍA
"Sometimes the club forgets about the players it already has"
The Argentinian gave an interview with 'Rock and Pop Radio', in which he also spoke about Higuaín's departure: "He had a lot of pressure on him; sometimes he was 'murdered' for not scoring."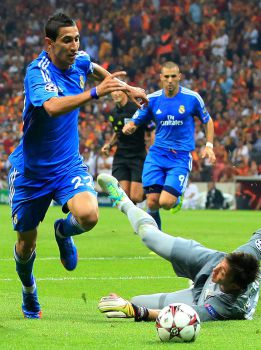 Real Madrid winger Ángel Di María gave an interview with 'Rock and Pop Radio', in which he analysed the current state of affairs with Carlo Ancelotti, his potential move away from the Bernabéu, the arrival of Gareth Bale and the departure of both Higuaín and Özil. "It's a club (Real Madrid) that always attracts players, but sometimes it forgets about the players it already has. It has a lot of money and can attract big players every year. I decided to stay because I knew I would have a chance of playing," 'El Fideo' said.
The Argentinian analysed the circumstances surrounding his decision to stay at Madrid: "I decided to stay. I knew big players would be arriving, expensive players, and that getting a game was going to be difficult, but I stayed. I knew that my form was good for the national team, and with the Madrid squad during pre-season; thankfully things have gone well. The coach has confidence in me and is playing me, which is the most important thing. Di María also spoke about conversations he had with Lavezzi: "I spoke to Pocho (Lavezzi) and he said to me, 'why would you want to leave, it's the best in the world.' I wanted to fight for my place; it was my decision and it's going well."
On Higuaín: "I spoke to him. He'd been here for seven years and felt he had completed a cycle and needed a breath of fresh air; the change has done him good. 'El Pipa' had a lot of pressure on him: the fans, the papers... a 'number 9' not scoring goals, it was just too much. He endured a lot. Sometimes he was 'murdered' for not scoring and that changes you."
Özil's move: "I hadn't spoken to Mesut before he left. People say he went because new players were coming in, but I'm not really sure about that. What I do know is that I wanted to stay and I'm happy."
His future at Real Madrid: "My contract runs until 2018 and hopefully I'll reach that point, which would be a privilege. Every day I try to give everything to be here, and I'm going to fight for the shirt until the death, and until the day I leave."
The arrival of Bale: "The coach has said that the player in the best form will play and he's proving that. Every game he assembles the team he wants. I don't think he (Bale) was training at Tottenham before he came, and he was in a fight with the club, that's why he hasn't been starting. He started against Villarreal and I started on the bench; the trainer plays with whoever he feels he needs for that particular game," he said. "Bale's position would be the one I'm playing in. I'm trying to give it everything so that the coach knows that he has a player that is giving 100% to make the starting line-up," he added.
Cristiano Ronaldo and Messi: "Every time I play with Messi, without watching the ball, I know it will reach me where I'm standing. With Cristiano, because I change from right to left, I know that I have to whip the ball into the near post. Both are great players, and they'll always want to win everything. It's normal that they compete with one another because they score 50-odd goals per season. Obviously there's going to be competition."