REAL MADRID
Ancelotti: "I told PSG in March that I was going to leave"
The Real Madrid coach has revealed to L'Équipe that he made the decision after the reaction to defeat at Reims: "I didn't feel there was confidence in me".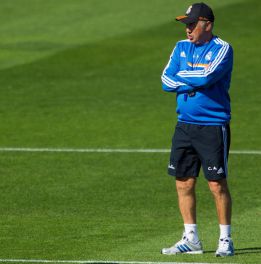 Real Madrid coach Carlo Ancelotti has told L'Équipe that he made up his mind to leave Paris Saint-Germain in March of this year because he felt that the club had lost faith in him in the wake of a Ligue 1 defeat.
In an interview published in Tuesday's edition of the French newspaper, Ancelotti admitted that he took the decision after losing to Reims as he did not understand the reaction at PSG, with the club at the top of the French league and through to the Champions League quarter-finals.
Discussing the 1-0 defeat at the Stade August Delaune, the Italian said: "We played very badly. But I thought that after the three very good months that we had had, there would be a bit of calm. However, I didn't feel confidence [in me]. From the next day on, I told [then PSG sporting director] Leonardo that I would leave at the end of the season."
He continued: "When I committed myself to Paris, I believed in a project. New players were coming in, a new team was being shaped and that takes time. The first six months were good. But the next season I realised that those in charge of the club had changed their attitude. The idea of a project wasn't there anymore; it was about immediate results."
Ancelotti also revealed that he would have left the Parc des Princes even if he had not received Real Madrid's offer, explaining that staying at PSG had become "too complicated".
Speaking about his arrival in the Spanish capital, the 54-year-old told L'Équipe of the pressure that comes with coaching the La Liga giants: "[The club has] a history that other clubs don't have, apart from Milan. That places greater responsibility on you and is a source of motivation."
The ex-Chelsea manager admitted that the language barrier was a cause of concern to him when he was unveiled at the Santiago Bernabéu this summer: "I have to learn Spanish, and at the beginning it isn't easy, despite the classes I took in June and July."
Ancelotti also moved to repeat the message that he gave the Madrid players on his first day at the club: "There has to be solidarity in the dressing room, thinking first of all about the group."