REAL MADRID
Zidane: "Di María reacted and wanted to fight; Özil wanted out"
"Everyone reacts differently. Mesut is a great player but he decided to leave. I wish him luck." He also insisted that his comments on Bale had been misinterpreted.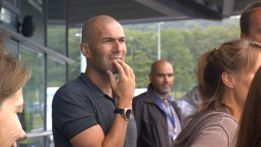 In an interview with Real Madrid Television, Zinedine Zidane spoke about all the latest news at the club and discussed the situation with players like Özil, Di María, Isco, Bale and Cristiano.
Being assistant coach: "I didn't imagine it would be so difficult, but that's logical. You carry the tension inside, but that's normal. What's more, the tension is mainly taken on by the coach, and everything he thinks about. I'm here to help him, and I worked with Carlo a long ago. Not only is he a good coach, which everybody knows, he's also a good person."
Playing days: "I'm always going to miss being a player, and it's always going to be that way because it was the best time in my life. But it's in the past."
Injuries in the squad: "Injuries never come at a good time but you also have to deal with it. The most important thing is that everyone is ready when the important games come around. It's an important year for everybody."
Varane and the young players: "The mix of the older players (veterans) and younger ones is good for us and the team."
Bale: "I feel that the signing of Bale is very important to Madrid. He's been the best player in the Premier League for the past two seasons – my comments were misinterpreted. Right from the very beginning I encouraged the president to try hard to get Bale to sign for Madrid. Real Madrid must sign the biggest players; that's why it's the biggest and most famous club in the world."
Pressure and Cristiano: "The pressure at Real Madrid is huge and it's going to be that way for Bale. But the best example is Cristiano, who dealt with the pressure supremely with his performances. What Cristiano is doing right now makes him stand out above the rest. Cristiano is the best striker in the world. Now we have creative players like Isco, and other new players like Jesé and Morata are also increasing the competition for places. Some players have responded strongly and want to fight. Everyone reacts differently; Di María reacted and wanted to fight. Özil, who is a great player, decided he wanted to leave."