REAL MADRID
Özil's father: "Florentino is not an honourable man"
"He wanted to make Mesut the scapegoat," Mustafa Özil told Bild. Madrid have responded by saying his words "don't match with the truth".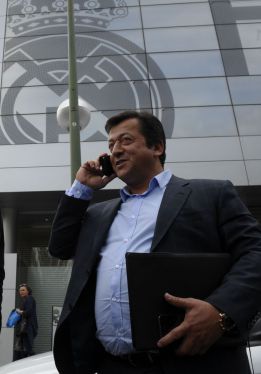 The father and agent of former Real Madrid midfielder Mesut Özil has told German newspaper 'Bild' that the Madrid president Florentino Pérez is "not an honourable man", and accused him of shirking the responsibility for the sale of his son to Arsenal.
The German international joined the Gunners for an estimated 45 million euros plus five million in add-ons on the final day of the transfer window, ending three years at the Spanish giants.
"The fact that someone earns a lot of money does not automatically make them an honourable man, and Florentino Pérez is not an honourable man," Mustafa Özil said.
"He now wants to make Mesut into a scapegoat and show me up as just a greedy father who is only interested in money. He is playing a dirty game, and we will defend ourselves in court if needs be."
Mustafa also held Florentino responsible for rumours about his son's private life which emerged in the Spanish press, which he said were lies.
"If Mesut truly lead the life they claim he is leading now, I ask them: why did he play almost every game? They are now trying to destroy Mesut's image, because the fans and players are angry about him being sold."
After learning of the interview, Real Madrid sent a statement to EFE, in which it declared that the Mustafa Özil's comments "do not match up with the truth and are completely out of order". The club also "firmly denies that the president Florentino Pérez or any club employee has anything to do with any story published by newspapers about the player Mesut Özil."
Real Madrid were referring to an article that appeared in the newspaper ABC last week, which suggested that Florentino was unhappy with Özil's lifestyle, alleging the player was "obsessed with women".
However, on Wednesday the newspaper clarified that it had obtained its information from "diverse sources" and not from Florentino himself.
"Real Madrid regrets that this story, which had nothing to do with Real Madrid, has provoked a reaction from the player's father which does not match up with the truth and is completely out of order," added the statement.
"The club would once again like to show its gratitude and love towards Mesut Özil, to whom we wish the best of luck in the future."