ATLÉTICO | NEW STADIUM
Atlético Madrid aim to move to 'La Peineta' in 2016
"We're planning to finish construction of the new stadium during the 2015/16 season," Miguel Gil Marín said today.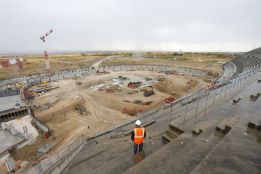 Atlético de Madrid will move from the Vicente Calderón into their new stadium, 'La Peineta'* ahead of the 2016/17 season. The news was announced this morning by the club's Managing Director Miguel, Gil Marín, who accompanied club President, Enrique Cerezo, and the architect in charge of the project, Antonio Cruz, on a visit to the new premises.
The stadium was to be the centrepiece of Madrid's latest failed Olympic bid (for the Games in 2020), but work on the ground continues. If Spain's capital had been awarded the Games La Peineta would have been built so that during the summer of 2020 it could be used as an Athletics stadium; with Tokyo taking the prize the work can now progress with only the idea of a football stadium in mind. "The plan is to have the entire work completed by June 2016", said the architect Antonio Cruz.
Miguel Ángel Gil said he was confident in the project: "There's no doubt FCC [the construction company involved] are going to finish this project. We fully intend to finish the works in the 2015-16 season and to move in for 2016-17". The plan is for the stadium to be owned by Atlético, with the money coming from the sale of the land at the Vicente Calderón. The ball would now appear to be in FCC's court to carry out the works by the date given by Atleti: June 2016.
*Literally a large decorative comb, with the main stand's shape giving rise to the name. The official name is the Madrid Olympic Stadium