SPAIN-CHILE | FÀBREGAS & CAZORLA
Cesc: "I'm feeling more important with every game"
The Barcelona midfielder, who provided the assist for Jordi Alba's opening goal against Finland, added: "I'm taking on a bigger role within the team."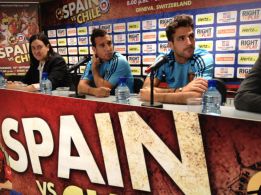 "I'm feeling more important with every game and taking on a bigger role within the team, and I just want to keep on going in the same direction," said Cesc Fàbregas before Spain's friendly with Chile tomorrow.
The Barcelona midfielder provided Jordi Alba with the assist for Spain's opening goal in the 2-0 win at Finland on Friday.
On the opposition, Cesc said: "The Chile players are very tough, but as well as being competitive they also have a lot of talent. We will have to compete well with them."
And he recalled the last game between Spain and Chile, also in Switzerland, two years ago, which was crucial to Spain's players cooling tensions stemming from the Supercopa de España matches between Barcelona and Real Madrid the previous month.
"I remeber what happened in the friendly with Chile two years ago here in Switzerland," he said.
"When the team met up there was a lot of tension between Madrid and Barça players and then we all united. The team was able to draw a line between the Clásicos and the national team. We all fought together for the same objective, and thanks to that sense of professionalism, the results started coming."
Arsenal midfielder Santi Cazorla emphasised that the game with Chile would help the team recover the dignity they lost after their heavy defeat to Brazil in the final of the Confederations Cup in June.
"Chile are a very competitive team, and this is a very useful game because it will allow us to see how good we still are," he said.
"They may be out for revenge, but we also are very keen to beat them tomorrow."
The midfielder also explained that the team's confidence had been lifted after the win over Finland.
"The Finland game has helped us, we got three vital points and France drawing made it even sweeter, but now we have this game, which will be terrific to play in."