REAL MADRID
Real Madrid tell CR7: "You're still the most expensive player ever"
'Los Blancos' have assured Cristiano that he remains the world-record signing. The club had feared he could feel aggrieved at the Gareth Bale fee.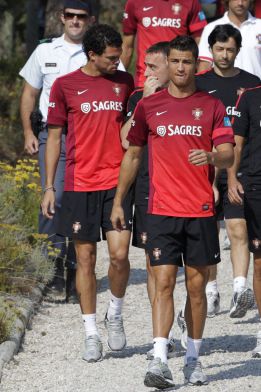 Confronted by the conflicting figures being quoted for the signing of Gareth Bale, Real Madrid have assured Cristiano Ronaldo that he remains the most expensive signing in history.
Via Cristiano's advisers, Madrid have insisted that the price they paid was 91 million euros: less than the 96 million they spent on bringing in the Portugal international from Manchester United in 2009. By telling Cristiano, "You are still the most expensive player ever", 'Los Blancos' are aiming to quell any doubts the star might have harboured about the issue – particularly in view of Tottenham Hotspur's insistence that the price paid for Bale was a world-record 101 million euros.
Some weeks ago, Real Madrid president Florentino Pérez successfully brought negotiations over the renewal of Cristiano's contract back on course. The talks are now closing in on completion, and Madrid do not want anything to complicate this process. For this reason, the club is at pains to avoid the possibility of CR7 (a player that Pérez has repeatedly highlighted as the team's most important player) feeling aggrieved at the Bale fee.
One of the reasons for Cristiano's reluctance to renew his deal at Real a few months ago was that he did not feel valued at the club. Pérez gave his word to the player and his agent, Jorge Mendes, that he would receive the kind of treatment that the club's star performer deserves. That's why Madrid have felt the need to keep Cristiano abreast of the cost of signing Bale.
Meanwhile, contrasting versions exist over Bale's salary at the Bernabéu: Real Madrid have stated that the Welshman will earn 7 million euros a year after tax, while that figure has been placed at 10 million in England.