REAL MADRID
Kaká staging talks with AC Milan and Manchester United
The Brazilian would prefer to return to his former club but is not ruling out a move to the Premier League.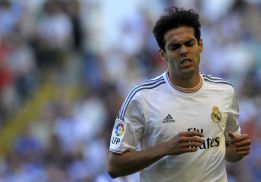 Real Madrid and Ricardo Kaká are battling against the clock to find an exit for the Brazilian midfielder before the inscription period closes at midnight on Monday. The player has stated his desire to leave the Bernabéu and Diario AS has learned that he is in talks with AC Milan and two teams from the Premier League. One of the English clubs is Manchester United, who are looking to bring in a big-name summer signing. The Red Devils were interested in the player last summer, but Mourinho put the brakes on any deal going ahead.
With next year's World Cup finals to be held in his homeland, Kaká is prepared to make sacrifices to ensure he gains regular playing time. Ideally, he would return to AC Milan where he would have the chance to star in the Champions League, battle for the league title and almost certainly get minutes. Competition for a place in the Milan XI would be less fierce than at Madrid – the Italians offloaded Kevin Boateng to Schalke 04 which would in theory leave a place in the side for Kaká, who is prepared to take a 50% pay cut, thus reducing his salary to five million euros to find a new home.