REAL MADRID
Karim Benzema to renew current Real Madrid contract
The club are keen for the France international to stay at the Santiago Bernabéu - and are working to extend his present deal, which expires in June 2015.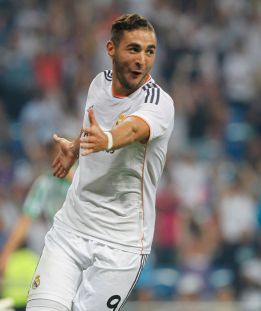 Karim Benzema is happy at Real Madrid and is not even considering the possibility of moving to another club. The Frenchman is aware that, this season more than ever, there is significant responsibility resting on his shoulders – and he wants to respond with goals. He is unaffected by the whistles he suffered in Sunday's win over Real Betis at the Santiago Bernabéu, and he is determined to be a success at 'Los Blancos'. He has made this plain to his closest advisors, and his optimism is shared in the Madrid directors' box, with a deal being put in place to renew the 25-year-old's contract, which runs out on 30 June 2015.
Benzema's move to extend his Madrid stay represents a show of affection for the club and sends a clear message warding off interest from potential suitors from England and Italy. Around a month ago, initial meetings took place between the player's agent and Real Madrid director general José Ángel Sánchez. This first contact saw both parties agree to reconvene in September to begin talks. The negotiations are expected to be straightforward, with a new deal finalised before the end of the year.
Madrid are adamant that the France international will not start season 2014/15 without renewing his current contract beforehand. This will guarantee that – whatever happens – his market value remains high. The issues of money or contract duration have not yet been discussed; however, Benzema's commitment to the club has been made clear.