ATLÉTICO MADRID | SIMEONE
Simeone: "This is just a two-team league, it's boring"
Despite Atleti's positive start to the season, recording a 3-1 win away to Sevilla, Simeone dismissed talk they might have title aspirations.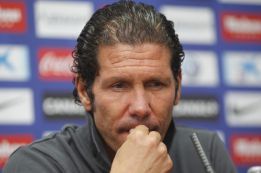 Atlético Madrid coach Diego Simeone has called La Liga "boring" and declared that there are only two teams that can hope to win it.
Simeone's side got their season off to a positive start yesterday with a 3-1 win away to Sevilla, but when the coach was asked if Atleti had title aspirations, he responded:
"No, absolutley none at all. Madrid and Barcelona play in a different league, and this is a boring championship. We'll have to wait until there is a change in the share of television revenue, because this is a two-team league."
Turning to his side's performance in Seville, Simeone said Atleti "looked to maintain our structure from last season, which was very good, and we responded very well and waited until the right moment to cause them damage."
And he praised Diego Costa, who scored Atleti's first two goals, before Cebolla Rodríguez added the third.
"Diego had a very good preseason and showed a lot of potential. He's a very important player because of his courage and his ability to inspire others."
On David Villa, he remarked: "He's 100 per cent fit. I thought he played well. I took him off because I felt we needed something else."