REAL MADRID | COENTRAO
Coentrao not called up for Betis game as he seeks to leave club
Ancelotti said the player had asked not to be included in the squad for the league opener.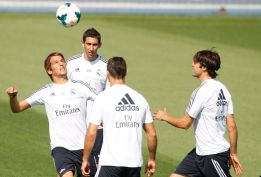 Coentrao is the only player not called up for today's game against Betis and not because he's injured. The Portuguese defender doesn't want to play for Madrid anymore, as he said at the end of last season, and his wish is to find a new club before the transfer window closes.
Ancelotti spoke about the situation in the press conference before the game: "The only position we need to think about is Coentrao's, because he's asked to leave and he won't play. There's nothing else, the other players are all happy to be here for the season". The coach has now lost all hope of convincing the player to stay. After the last game of the US tour, against Inter, he had said that, "Coentrao is still thinking about it, but I'd be happy if he stayed because he's a great player".
With the player definitively deciding his future lies away from the Bernabéu all that remains is for a club to appear with whom both Real Madrid and Coentrao can reach an agreement. Monaco were the first club to show an interest, but that has now waned. Chelsea are keen (he was one of the only players to say hello to Mou in Miami). The most likely option though is that he'll be used in the Bale operation. AVB likes him; the one problem is that Florentino thinks he's worth 25 million (he cost 30) and Levy thinks he's not worth more than 20.