TRANSFERS | AGGER
Agger's agent: "Liverpool have rejected Barcelona's offer"
Per Steffenson said that the player "has a contract for three more years, it's up to the clubs to agree a fee".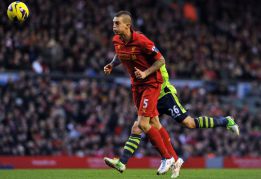 With David Luiz avoiding talking about Barcelona and his price going up by the minute Barcelona opened a line to Daniel Agger, the left footed Liverpool defender. The Daily Mail revealed that Barcelona had made a 17 million euro bid for the player and now his agent has confirmed it. He has also confirmed that Liverpool turned it down. "We know Barcelona made an offer for Agger and that Liverpool have rejected it. Daniel has three years left on his contract. It's up to the clubs to reach an agreement for his situation to change", he said.
With just days to go before the start of the league Barcelona could be starting with Puyol out injured and Piqué, Bartra and Mascherano (now considered a central defender) as the only centre backs.