THAILAND 1-7 BARCELONA
Neymar opens account as Barça romp to Thailand victory
The Brazilian scored his first Barcelona goal as Pedro's hat-trick helped 'Tata' Martino's men see off a weak Thailand side. Lionel Messi (2) and Alexis also scored.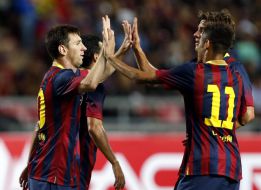 A ruthless Barcelona brushed Thailand aside 7-1 in Gerardo 'Tata' Martino's second match in the 'Blaugrana' dugout. It was also the first encounter that saw Lionel Messi start alongside new man Neymar, who hit his first goal for the club. The pair were joined by Pedro in a forward line that ran amok in the first half, the Spain international notching two goals before the break (and sealing his hat-trick shortly after half-time).
Messi and Neymar are yet to pit themselves against more competitive opposition, but the good news for Barça – and a cause for concern among their opponents – is that the duo seem to revel in playing together. They consistently sought each other out against their Thai rivals, Messi even opting to pass to the Brazil international when he seemed better placed to score. Some might say this hasn't been the case since the days of Ronaldinho.
It's also clear that Messi comes into the season in great physical shape. Throughout this pre-season period, the Argentine has been among the Catalan club's most energetic on-field presences. A summer break of active rest, involving a programme of charity matches, appears to have stood the 26-year-old in excellent stead.
Tactically, Martino's Barcelona seem to draw closest comparisons with the early Pep Guardiola-Tito Vilanova era. The team is less accommodating, pressing aggressively and with the basic premise of winning the ball back as close to the opposition's goal as possible. However, the relative quality of Barça's opponents in Bangkok makes any definitive conclusions seem somewhat premature.
The new Barça coach served up a selection surprise for Wednesday's match, picking Macky Bagnack to partner Gerard Piqué at the heart of defence. This was the young Cameroonian defender's reward after impressing Martino with his training performances. In his youthful eagerness, Bagnack it was who conceded the penalty through which Dangda hit the hosts' only goal.
It took Neymar 12 minutes to open the scoring – and his Barça goalscoring account – after good work from Messi and Cesc Fàbregas. A flood of goals then followed for Martino's men, Messi and Pedro helping themselves to two each before Thailand's spot-kick consolation at the end of the first half.
In the second period, Barça (having withdrawn Messi and Neymar) briefly continued where they left off. Within four minutes of the restart, they had added two more goals through Pedro and Alexis to lead 7-1. However, the visitors then sat back against opponents on whom they could easily have inflicted a significantly wider scoreline, and further damage to the home defence was avoided.