VALENCIA
Soldado: "Salvo lied to me, that's why I'm leaving"
The striker blasted Amedeo Salvo saying that he made his mind up to leave after his meeting with the Valencia President.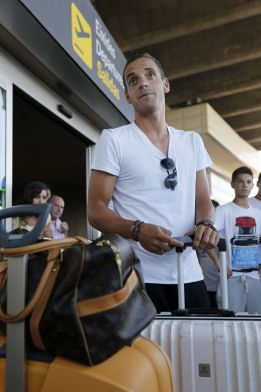 Just moments before taking a flight from Manises airport to London, Roberto Soldado took a parting shot at Valencia President, Amedeo Salvo whose hard-line economic stance almost scuppered his 30 million euro move to Tottenham Hotspur.
"I'm leaving Valencia because I do not believe in, nor do I trust their sporting project. Right from the first moment I spoke to the President, I had made my mind up to go. Salvo lied to me many times, and that hurt me and my agents, who are like family to me. The newspapers have published malicious untruths which were filtered to the press by him. I don't like the way he deals with things; I really hope he proves me wrong and starts a new successful era at the club," Soldado said.
The striker has never had faith in Valencia's policy of selling their top players to ease their economic troubles but said he hopes that the 30 million euro windfall from his sale will benefit his former club. He continued, "I think the deal is good for both clubs. I would like to say sorry to the fans for failing to complete my contract. I would have liked to have ended my playing days here but I was confronted with a hurdle which made me think again. I wish Valencia all the very best".
Soldado was asked his opinion on Gareth Bale's potential switch to his old club, Real Madrid but only expressed his hopes to be playing together with the Welshman in the Premier League. "He's a great player and that's why Tottenham are making it so difficult for him to leave. Of course, I hope that he stays with Spurs".