REAL MADRID
André Villas-Boas seeks swift resolution to Gareth Bale saga
The Tottenham Hotspur boss wishes to avoid a repeat of Luka Modric's drawn-out departure last summer - and wants to time to bring in new recruits.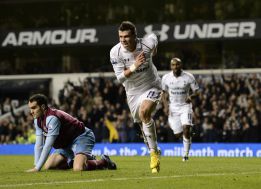 Tottenham Hotspur manager André Villas-Boas has asked his chairman, Daniel Levy, to resolve the Gareth Bale transfer saga as swiftly as possible. Although the Portuguese coach sees keeping Bale at the Premier League club as a priority, he is also resigning himself to the fact that the player wants to leave and, if he joins Real Madrid, it is in Spurs' best interests to have as much time as possible to reshape their squad before their Premier League opener against Crystal Palace on 18 August.
Villas-Boas wishes to avoid a repeat of the protracted sale of Luka Modric to Madrid last summer, which he believes had a negative effect on Tottenham's start to the season. Modric was sold to 'Los Blancos' with only four days remaining in the transfer window, leaving the club with very little time to replace the Croatia international.
Following Modric's departure from White Hart Lane, Tottenham signed Moussa Dembele on 29 August, before sealing last-minute deals for goalkeeper Hugo Lloris and midfielder Clint Dempsey. However, Villas-Boas failed to secure Porto's Joao Moutinho, his key target to cover Modric's exit. Spurs held talks with the Portuguese club, but the transfer fell through after being delayed by paperwork issues.
Tottenham then went on to win just two points from their first three Premier League matches. It is lost on no-one that the seven points dropped at the start of the 2012-13 season would have been enough to see the club qualify for the Champions League (they finished fifth, one point off Arsenal and three behind Chelsea).
Villas-Boas does not want to see history repeat itself, and has asked for more time to work with the signings likely to result from Bale's move: Roberto Soldado (with the money received for the Welshman) and either or both of the potential Real Madrid makeweights Fabio Coentrao and Ángel di María.