BARCELONA
Thiago: "Barcelona did nothing to make me stay"
"I waited and waited but the time came when I had to decide and I made a choice. Madrid? It's a great club but I preferred Bayern," he told Catalan radio station RAC-1.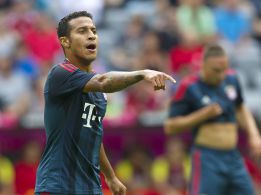 How are you feeling in Munich?
Fine, adapting to a lot of new things. I only landed a week or so ago and I'm already part of the squad dynamic, playing games, listening to instructions. I feel good, relaxed, and I'm up for the game against Dortmund next Saturday, going for the first trophy wearing this jersey.
What was it like playing against Barça?
It was really strange. It was weird having really good friends on the opposite side, people I've shared a lot with, but that's football and we're professionals; that's where we are at the moment. At the end we greeted each other and hugged with a smile on our faces, and that's what counts.
Were you able to speak to Vilanova?
No, but I'd like to send him my support and I wish him a speedy recovery.
Has your life changed much?
No, not at all. I'm still the same. I needed this change and it was my personal decision. We all have to get minutes on the pitch and we want to be in form at the beginning of the season.
Do you feel more fulfilled?
I'm not happier now than before, I've always been happy. We're prepared to deal with the praise we receive and overcome the criticism that comes our way when things go wrong.
Barça now have a new coach. Do you think that if you'd known before things would've been different?
Congratulations to Tata Martino for being chosen, but no, I don't regret the change.
On Saturday you've got the chance to get your hands on the Super Cup
Dortmund play really good football. They've being doing well over the past few years and proved it in last season's Champions League final against Bayern. It's going to be tough, but we're in good shape to win it.
What does it feel like playing against people you've always played with?
It's strange but that's the way it is now.
Were Bayern giving it 100%?
Yes, we always want to win by the highest number of goals possible.
Have you had to be patient?
I was being patient before the European Championships and I was waiting for contact from Barça to speak about the situation. They knew I intended to leave.
Did Barça not do anything to keep you?
Everyone looks out for themselves. I wanted to feel valued and competitive and so I decided to leave and go to Bayern. The club did nothing to make me stay. I waited and waited but the time came when I had to decide. And I did.
Were United a possibility?
No-one approached me. It was what the press was saying, but it was a lie.
What about Madrid?
It's a great club but I prefer Bayern.
Did Madrid call you?
That's my business.