THIAGO ALCÁNTARA
Guardiola confirms he wants to sign Thiago for Bayern Munich
The midfielder looked set to sign for Manchester United but COPE has reported he intends on joining up with Guardiola again at Bayern Munich.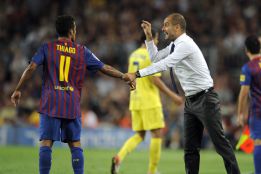 Thiago Alcántara's future may be about to take an unexpected turn.
Just when the Barcelona midfielder looked set to accept an offer to join Manchester United, the radio station COPE announced that Bayern Munich had entered the race for the 23-year-old and were in the driving seat to sign him.
According to COPE, Thiago has rejected offers from United and Real Madrid in order to work again with Pep Guardiola, who has reportedly told him he would play a key role in the Bayern midfield next season, with fellow Spaniard Javi Martínez switching to centre-back, where he played in his final season at Athletic Bilbao.
The captain of the Spain under-21 side would receive a reported salary of four million euros per year at the Bavarian club.
Speaking at a press conference on Thursday, the Bayern coach confirmed he wanted to sign the player, who he brought into the Barcelona team back in 2009.
He said: "I would like Thiago to come here. I have asked the club to sign him but there is nothing new to report on the negotiations. We will see what happens.
"I don't think the club would have a problem in signing him, [Bayern directors] Sammer and Rummenigge know my opinion and they know why I want to sign him."
The Catalan coach believes the fact that Thiago is keen to play regular first team football is why he wants to leave the Camp Nou.
Guardiola said: "Nobody will leave Barcelona, unless they feel they won't play much. He wants to play. That's why I proposed him to the club."
Bayern, who won the treble last season, have already signed Mario Götze, and have confirmed that Robert Lewandowski will join the club at the end of next season.
Guardiola indicated he was happy with his squad and the only player he still wanted to sign was Thiago.
"It'll be him or no one. Thiago is the only player I want, that's what I told them," he said.