REAL MADRID | JESÉ
Jesé scaling heights of Maradona and Messi at under-20 World Cup
The Real Madrid forward has contributed five goals and one assist in four games in Turkey. Messi, Maradona, Aguero and Suker all starred in previous editions of the tournament.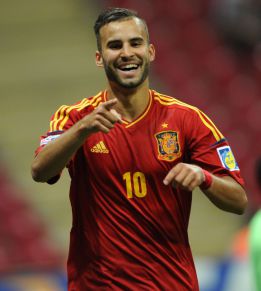 Many of the best players in the last few decades have reached the summit of world football by taking the route of the under-20 World Cup.
Since the competition's first edition, back in 1977, it has been a looking glass for the future. In general, players who make their mark in the tournament as youngsters end up succeeding at the professional elite. It happened with Maradona, Suker, Mijatovic, Figo, Casillas and Xavi, Iniesta, Messi and Agüero. A terrifying precedent.
That is why the exploits of Jesé in Turkey need to be recognised. By scoring five goals and providing one assist, he has recorded some of the most impressive statistics the tournament has ever seen.
And when you take into account that the goals have been shared out in each of the four games Spain have played so far, and that there are still potentially three games left, starting with a quarter final tie against Uruguay, it is an even more incredible achievement.
Maradona was the first big name to come out of this tournament. In 1979 in Japan he shot to fame by lifting the trophy and scoring six goals, one less than Jesé has thus far.
Davor Suker got the same number of goals in Chile in 1987, and also helped his side win the tournament. Oleg Salenko hit five in Saudi Arabia in 89, as did David Trezeguet in Malaysia in 1997. Even Leo Messi took the same route in 2005 in Holland, where he was named the best player and top scorer with six goals. Two years later, in Canada, Kun Agüero emulated him by scoring the same amount of goals.
Now its Jesé who is on the same path and Madrid are well aware of it
Florentino Pérez knows the Canary Islander is a valued treasure and showed that with his celebration of his wonder goal against Alcorcon in Valdebebas, which was reminiscent of Maradona's famous goal vs England in 1986 or Messi's vs Getafe in 2007.
The president wants the forward to stay and Jesé, whose contract runs out in 2014, also wants to remain in Madrid. However, there is still no contract on the table to seal this marriage, bringing a certain amount of uncertainty to the player's situation.
Jesé, who was treated badly by Mourinho, wants a spot in the first team, just like those other players who shined at the under-20 World Cup and later developed into superstars.