REAL MADRID | ILLARAMENDI
Illaramendi is just one step away from joining Real Madrid
Madrid and Real Sociedad spent all of Friday negotiating for the Spain under-21 midfielder, who will move to the Bernabéu for 30 million euros.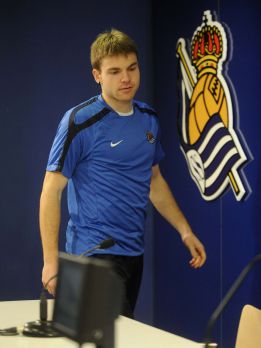 Asier Illarramendi is on the verge of joining Real Madrid, who have been holding talks with Real Sociedad throughout Friday. The player's buy-out clause is 30 million euros and that is what it's going to cost Real Madrid to sign the midfielder, including taxes. However, Madrid will not exercise the clause by paying it in one single deposit to the Spanish Football League, which would incur a 6 million euro fee in VAT, and will instead pay the money directly to the Basque outfit.
Right now the clubs are at odds as to how the money will be transferred. Real Sociedad have asked Real Madrid to pay the fee in one installment, but Madrid initially offered to pay it in three installments, although it is likely to be reduced to two. If this small disagreement between the two parties can be ironed out, the deal will become official.
The player is also negotiating the terms of his contract. He will sign a five year deal, the same as Isco, and will cuadruple the salary he earns at Real Sociedad. Bahía, the agency which represents the player, are finalising the deal. Madrid aim to finish the deal by the end of Friday.
If that occurs, then Illaramendi's wish will be fulfilled, as he asked for the move to be completed before next Thursday, when he will join up with his new team-mates for pre-season training.
The player has been on holiday in the Balearic Islands but will have to return early next week to be presented at the Bernabéu. He will be the third Madrid signing to be officially unveiled at the club ahead of next season, after Isco and Dani Carvajal. Curiously, all three played in Spain's triumphant under-21 European Championship campaign.