LIGA BBVA | REAL MADRID
"I prefer Spanish football to others" says Bale
The Spurs player had complimentary words to say about the Spanish game in an interview with Esquire magazine: "It's the best I have seen," he says.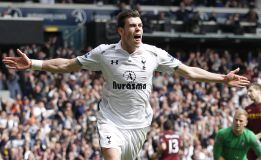 "I prefer Spanish football to others; it's very technical the way they play, and they keep the ball well," claimed Gareth Bale in an interview with Esquire magazine this week. The Tottenham Hotspur forward, who is on Real Madrid's summer wish list, had plenty of positive things to say about the Spanish game.
He continued, "Whenever Spurs have played against Spanish teams in the past they've always made it difficult for us. So I'd say that Spanish football is probably the best I've seen. Obviously, I'd like to try other leagues in the future. Every player would like to get as high as they can and try different things. It's something that the future holds and it's something that I'm very interested to try in the least."
Bale also stated his enthusiasm for playing in the Champions League – a tournament which Spurs have failed to qualify for this season. "When you play in the Premier League, say you're playing against a lower-end team, they set up to defend all the time, they set up to block you off.
"But when you play in the Champions League, all the other teams are used to winning every week, so it's more of an open game, it's more attacking, end-to-end. No one's used to defending, everyone's used to attacking and trying to win games, so it's just all against all.
"The music is a massive thing. When we first got into the Champions League, it's one of the things that most of the lads were looking forward to, hearing the anthem in the stadium. It's little things like that which make it so special," he ended.