2013 CONFEDERATIONS CUP | BRAZIL 3 - SPAIN 0
Del Bosque: "They were better than us, I'm not making excuses"
The Spain coach recognised that Felipe Scolari's men were superior throughout the final. "They had more energy than us and they channelled that into every move."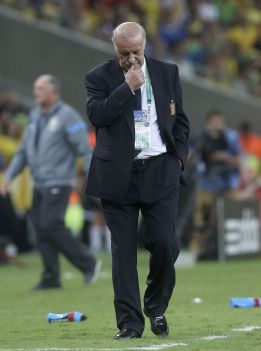 Spain coach Vicente Del Bosque was gracious in defeat after his side were swept aside by Brazil in the Confederations Cup final and admitted his men had been second best on the night.
"They were better than us and we have to congratulate them," he told Telecinco.
"We had some bad luck at the start of the game, at the end of the first half and at the start of the second, but I don't want to make any excuses because they were the better team. They have showed they are one of the big favourites to win the World Cup."
He also praised Brazil's ability to press the ball and get men forward.
"They had more energy than us and they channelled that into every move they made," he said.
The coach also declared that the defeat could benefit Spain in the future, and insisted his side's playing style was non negotiable.
"Sometimes it is good to lose, so that you don't think you are unbeatable. We are hurt by this defeat and we have to analyse what happened, but we cannot lose perspective after all the success we have had in the last few years," he said.
"This is a painful defeat, but it's not a turning point. We have good players, a defined style, a group of players that get on well with each other and a style of football that has conquered the world and lead us to win many trophies.
"We aren't going to change everything after just one defeat. Now is not the time for criticism, but to praise Brazil."