2013 CONFEDERATIONS CUP | BRAZIL - URUGUAY
Belo Horizonte police call for semi-final to be postponed
Police are worried a mass demonstration could disrupt Brazil's semi-final meeting with Uruguay.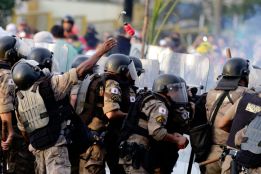 The first 2013 Confederations Cup semi-final between tournament hosts Brazil and Uruguay is in danger of being postponed as local police in Belo Horizonte fear they cannot guarantee the safety of those who will attend the game. A huge demonstration has been planned just before the match kicks off (21:00 hours Central European Summer Time) and police estimate that over 100,000 demonstrators will take to the streets close to the Mineirão stadium to voice their anger at the high cost of hosting the Confederations Cup and next year's World Cup finals.
Authorities are keen to avoid a repeat of the disturbances which occurred when 70,000 protestors filled the streets ahead of Japan's meeting with Mexico at the weekend. Police claim they haven't sufficient manpower to patrol the area surrounding the stadium.
The General Commander of the Minas Gerais State military police (PMMG), Martins Sant'ana has warned those planning to take part in the demonstration that if they approach the police cordon, which will be situated at two kilometres' distance from the stadium, "Combat will be inevitable".
Further signs of tension in the city were in evidence when FIFA president Joseph Blatter cancelled the 'Football for Hope' event which was scheduled to take place on Tuesday. The tournament organizers have decided to grant spectators access to the stadium an hour earlier than planned.