EXCLUSIVE INTERVIEW | RAFA BENÍTEZ
Benítez: "Madrid taught me to win with respect"
Rafa Benítez's arrival in Napoli has caused a commotion in the southern Italian city as AS found out when we caught up with him this week.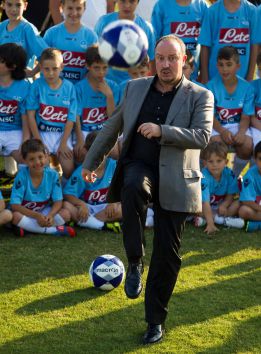 There aren't many coaches of your age who can boast such an impressive track record in Europe. Now you'll be trying to emulate your successes with Napoli...
I am very proud of my career - I have don't nothing but work very hard and with enthusiasm wherever I have gone. Now, I'm here at Napoli and the reason I am here is because the club and the president were the ones who really showed an interest in bringing me on board after they found out that I wouldn't be continuing at Chelsea.
But you knew that the Chelsea post was always only going to be a temporary position while they waited for Mourinho's return?
Everyone at Chelsea knew that Mourinho would be coming back at the end of the season. But that didn't take away my excitement and determination to see our objectives through. We managed to win the Europa League and that shows what a fantastic team effort we put in.
Tell me how someone like you has ended up in Naples. Napoli doesn't exactly seem the kind of club which suits a coach with your profile?
Well, I'm here because the president, Aurelio de Laurentiis flew out to London to meet me. He made a great effort and that showed me that he must be serious about bringing me in to be the head of the club's project. This is the man who took over the club when it was in the Third Division and look where he has taken them... So we spoke about things, he told me what he wants and I explained a little about my working methods. We are thinking along the same lines. He has put Napoli at my disposal.
De Laurentiis, film producer, extrovert - quite an unconventional guy...
He's a real character. I was amazed at the way he deals with things. He is fully involved and works 24 hours a day. He constantly surprises me. Whatever he wants, he gets and he is very clear about things. Just to give you an example, he told me that immediately after this interview; he would be flying me and my wife out to Capri, by helicopter for a two-day trip. I had planned to spend the next two days looking for a house in Naples but...
You certainly seem very motivated by this new challenge.
The atmosphere is sensational. The fans applaud me in the street, they call me 'Rafe, the King of Naples' – in reference to the city's Spanish heritage. There is a passion in Naples for the team like I have witnessed nowhere else. Here, football is a way of life.
Will you be scouring the markets to confect a 'Spanish Napoli' like you did at Liverpool?
Where is the best football being played right now? - in Spain. So we will be taking a look at a few Spanish players to cover positions where necessary. There's no doubt that that Spanish Liverpool made history but I'm not concerned with what nationality players are – only if they are good players.
Good players like, say, José Callejón?
He's an interesting player but Madrid still don't know who will be put on the transfer list or who they are going to sign. They will only know who will be put on the market once the new coach is on board.
Let's talk tactics. Your detractors claim that...
... that I am too defensive? Well I can't understand how they can say that about me. It's a topic which came up once and now it seems that my teams never play on the attack. I can assure you that every one of my teams have had no problems scoring –averaging around 60 goals per season. For me, football is all about finding equilibrium: you need to score goals but you also have to try to not concede any. That's the first premise in make a competitive, winning side.
What is the Benítez model based on?
I've always said that my working methods are based on those used by Arrigo Sacchi, I like to play with a 4-2-3-1 formation but I have been adapting that to other systems depending on the situation. It's not unusual to see my teams play with three centre-backs or with two up front. I know that I have evolved tactically.
Why didn't you receive an offer from Real Madrid?
When Madrid did call me several years ago, I was already committed to Liverpool; since then, they haven't called me. You need to ask Florentino and his advisors how their selection process works. I have achieved enough and won sufficient trophies over the years for others to get an idea of my capabilities as a coach. I am not going to turn around and tell you that I would like to coach Madrid when I have only just signed for Napoli. That would be a lack of respect to a fantastic club and I cannot do that.
Rafa Benítez, born and bred in Madrid - you're a madridista though and through!
Of course!! I entered the club aged 13 and learned everything I know in Real Madrid's youth teams. I was a player at Under-17 level. I returned to the club as a coach and learned the ropes under Del Bosque. Madrid gave me a sporting education – they taught me how to win – and lose whilst always showing respect and good education towards the opponent.