UD SALAMANCA
UD Salamanca goes bust
The club, which had debts of 23 million euros, has gone into liquidation and its assests, including its stadium, will be sold off.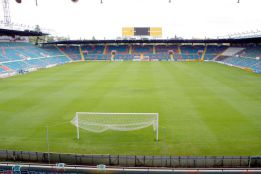 Unión Deportiva Salamanca have folded after a crisis meeting of the club's creditors failed to reach quorum.
The club's main creditor, Banco Popular, sent no representatives to the meeting, meaning that settlement proceedings, which would have permitted the club's viability, could not be approved.
The club's liquidation has been instigated and its assets, including the Helmántico, stadium, will be auctioned off from Thursday. The club's total debts amounted to 23 million euros.
Spain coach Vicente Del Bosque played for the club's youth team Salamantino before joining Real Madrid, while famous former players include Portugal striker Pauleta and Michel Salgado.
Maximo Mayoral, one of the club's administrators, announced that the club had folded and criticised the management of the club, arguing that it entered administration too late.
He said: "The club should have applied for administration several years ago, when it was technically bankrupt. When it did go into administration the situation was already critical due to the club's insurmountable debts, which made it very difficult to move the club forward."
He also had harsh words for the club's former president and shareholder Juan José Hidalgo.
"He said in October that he and his family were committed to doing everything within their power to save the club, and they haven't done that, they haven't kept to their word."
Founded on 9 February 1923, UD Salamanca disappears after 90 years of existence.
The club spent 12 seasons in La Liga, the last of which was 1998-99. It was relegated to Segunda B in June 2011 and played its final match on 19 May 2013, a 2-2 draw with Tenerife at Helmántico.
The club's oficial Twitter account released the following message shortly after the news was announced: "Today is the saddest day of our 90 years of history. We are in all your tears and will always be in your hearts #HalaUnión."