SPAIN UNDER-21S
Isco admits receiving offers from Manchester City and Madrid
Just hours before the European Under-21 Championship final, Isco sat down to chew the fat with Diario AS in the gardens of the Dan Accadia Herzliya Hotel.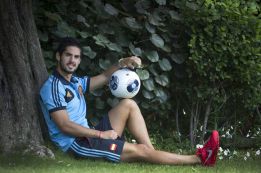 Spain are in the final but how do you confront such a decisive match as this after enjoying a flawless campaign – eight goals for and zero conceded...
We're very excited about it. Italy are going to make life difficult for us because they are a highly competitive team but we know exactly what we need to do. We have to continue playing as we have until now and believe in our own capabilities.
And what a tournament you've been having – you have been named Man of the Match twice for Spain and everyone is talking about you. Perhaps we could describe it as 'Iscomania´?
I'm really happy that everything is turning out well, both for me personally and for the team as a whole but more than anything else because we are about to contest a European final and that's the most important thing – regardless of how I am playing.
You have become the leader of your generation, you have been man-marked throughout the tournament and now, you don't seem just like any ordinary player...
Taking part in a European Championship is a really nice experience and I have to admit that it has been going well for me personally. I feel good because I have been able to help the national team. We have a fantastic group of players and now all that is left to do is the best part of all – playing the final.
How did your team mates react to your performance against Norway?
Well, the others didn't really get a chance to say much to me as I was busy undergoing a doping control. They just told me that my goal was amazing. The move leading up to the goal went very quickly and I saw that there were a lot of defenders crowded in the area. I just decided to have a crack on goal from where I was – that seemed the best option at the time. All my team mates were really happy. Let's see if I can grab a similar goal in the final.
Does the prospect of ending the competition as the player of the tournament fill you with excitement?
Well I am not going to lie to you about it – it's a nice objective to aim for on an individual level but as I say, winning the trophy is our priority. I want to just continue to help my team mates out whether I am voted the MVP or not – that's secondary for me. As always, it is the team which must come first.
The tournament is proving to be an opportune shop window for players such as yourself. Some of the top clubs have been taking note...
Obviously, if you are enjoying a good tournament then all eyes will be on you but that's the case with a lot of players such as Thiago, Morata and many more of my team mates – they are all having a great tournament too. We are all performing to a high level and that is what has enabled us to progress to the final.
Manchester City and Real Madrid will have been impressed by your displays in the competition...
Well, I have two offers on the table. I hope to make my decision soon although right now, I am still under contract with Málaga. I know that both Manchester City and Real Madrid are two great clubs. I just want the best outcome for me and for Málaga.
So you have received firm offers from both City and Madrid?
(Isco looks to the floor for several seconds before finally responding) Yes, I have offers from both of them.
And who do you prefer to be in charge – sheikhs like those at Málaga and Manchester City or businessmen like Florentino Pérez at Real Madrid?
(Smiles) I don't really care. All I am concerned about is playing football wherever I am and enjoying myself.
[Dani] Carvajal and your room mate [Álvaro] Morata think you've already decided to accept Madrid's offer...
(Laughs) The lads are trying their best to convince me, they keep insisting.
If you have to make a decision on which team to join, would you take into account the style of football they play?
No, players have to adapt to the team which is already in place. I don't worry about playing in one team or another depending on what kind of football they play. I have my own characteristics but you always have to adjust to the team.
Has Pellegrini called you? We all remember what he said to you before he left the Málaga job – "You'll always play for me"
No, no I haven't spoken to him. I found out that he would be joining City on the internet at the time but he hasn't phoned me. He is a great coach and I hope that it all works out for him in England. He is a fabulous coach – one who did a fantastic job at Málaga – just like he did for his previous clubs so I am sure he will do an equally good job over there.
Will Pellegrini's position at City have any influence on your final decision?
Of course, Pellegrini is someone who I already know, I know how he works and he has played a fundamental role in my career during the two seasons he was at Málaga. It's a factor in favour that we have been at the same club and that I know his working methods but I wouldn't say that it would be a decisive factor.