TRANSFERS | CRISTIANO | MANCHESTER UNITED
Manchester United working on a plan to sign Cristiano
Moyes and Ferguson want to convince the Portuguese star to return. The 'Red Devils' are willing to pay 75 million euros.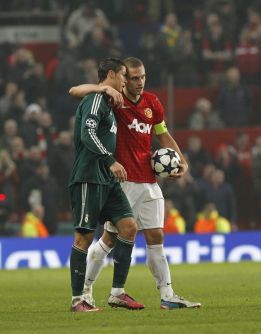 Manchester United are willing to pull out all the stops to get Cristiano back and are looking to take advantage of stalled renewal talks at Madrid to do so. As well as offering money United will be offering recognition and love, with Moyes ready to head for a personal interview with the player to try and convince him, according to British newspaper 'The Daily Mirror'. And if Moyes on his own wasn't enough Sir Alex Ferguson is the English club's secret weapon. The Scotsman has a great relationship with the player, with the star striker considering him to be his "sporting father". The outgoing coach of United is willing to get involved to try and convince Cristiano that the best thing for his career would be to return to Manchester.
The 'Red Devils' would pay 75 million euros to get Ronaldo back, although the answer would be bound to be no, given that Madrid are only considering one option: a contract renewal for the player, to make him the best paid player on the planet.
Last Thursday Cristiano made statements on Twitter and Facebook, saying that "all information about my renewal is false". The Portuguese player is fed up with the fact that the only news appearing about his renewal is in the newspapers and not from the club directly.
Cristiano has gone on holiday and has seen how the club have pursued Neymar, met the Isco's father and flirted with Bale, while the only thing that has been done about his situation was for the President to make some promises.