SPAIN | INTERVIEW WITH FERNANDO TORRES
Torres: "I want to be the best in the world in my position again"
"I want to continue here, I want to complete the contract I signed and continue winning trophies. There's no better place to be than at Chelsea with Mourinho."
Javier G. Matallanas / Joaquín Maroto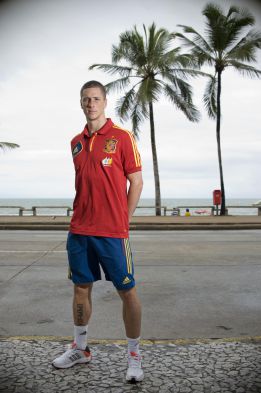 Are you happy to be here with the Spain team?
I can't wait for the tournament to start. These weeks are important in order to get ourselves in shape and get used to being together, but we want the tournament to start now.
It seems like the debate about strikers is over, now the debate is about the goalkeepers.
There are always debates. This year there is an open debate with the Iker situation and I'm sure that there'll be other debates during the tournament, as players stake a claim for a place in the team and provide strong competition.
Did you think it would be difficult to get back into the Spain team (after being left out of the squad in March)?
Of course, when you aren't in the squad a few months before the tournament, you imagine it'll be difficult to get back in. The same happened with the European Championships, but I've always been confident about playing for Spain and doing a good job. I finished the year well and managed to get back into the squad. I hope we do as well here as we did in the Euros.
It seems like there will be no false nine this time around, it'll be either Villa, Soldado or you..
It depends on the game and what is required. In the Euros it looked as if we were going to play with a striker but the boss surprised everyone in the first match, so there is a lot of competition and we have many different options.
You made the most of the few minutes you played at the Euros and won the Golden Boot..
Yes, playing in the Spain squad always makes you a better player. Whoever plays will have the opportunity to score goals and make their mark. It is good to have a variety of different players who can all contribute in different ways. It's difficult to know which system will work the best but you can be sure that, whoever plays, the coach won't be making a mistake.
Is it better to come on as a substitute than to start?
The team often struggles to score the first goal because when the other team is in a strong physical shape they are harder to break down. But there are other games where we have taken the lead early on and it's been easier. The only thing you can do is try and take advantage of the little space you are allowed, because you'll get more room as the game goes on.
How does the team get motivated after winning everything as much as you have done?
We haven't won everything. We still haven't won this tournament and we are here to do that. Every time you win, the moment makes you want to do it all again. That's why we want the tournament to start as soon as possible so we can win it and continue making history. We've won the Euros, the World Cup and the Euros, now we want to win the Confederations' Cup, and then add the World Cup next year. Why not?
Will you win things with Mourinho at Chelsea?
He has won a lot more than many of us. It's a new challenge and we're looking forward to it.
Don't tell him you are friends with Iker.
Well, I don't think any of us truly know what went on between them and it's not a good idea to talk about that. No one can question Mourinho's abilities as a coach or Iker's ability as a player.
Mourinho said in an interview that if you stay at Chelsea he will make you into a better striker
His words motivate me. He's said he doesn't want to speak with the players that are in this tournament until it's over. We will meet soon, he will explain what he thinks of me and my situation, and I'll tell him what I think.
Do you want to stay at Chelsea?
I want to continue, I want to complete the contract I signed and continue winning trophies and I would like to be the best in the world in my position again. There's no better place than to be than at Chelsea with Mourinho.
Of course Mourinho can make you a great striker as he was one himself.
His trophies and achievements speak for himself. Not all the best coaches have been footballers. If you start to think about the players that have been in his teams, the strikers, they have all had great years.
It seems that the opinion among Spaniards is that he's not going to be a success. What do you think?
That's not true, he has a very good relationship with some players in this squad, with others less so, but it's nothing to do with being Spanish. He fell out with the Spanish media, not the Spanish players.
'Sport' has linked you with a move to Barcelona next season. Would you like to play there?
It's always nice to hear about interest from clubs like Barcelona, but my plan is to stay at Chelsea.
As an Atlético man, did you enjoy the Copa del Rey final?
Yes of course, it was an unbelievable game in every sense, even forgetting the result for a second. The atmosphere, the performance of both teams and the intensity of the game was amazing, and Atético fans couldn't have asked for a better result.
People are always talking about you returning to the Calderón one day..
Right now Atleti don't need anyone to revindicate them, they are doing that by their selves. And as Cholo said, consolidating success is the hardest thing and not becoming wrapped up in success and wanting to do things very quickly.
When will Del Bosque call up more Atlético players?
I'm sure more players will go on to play for Spain. Anyone playing for Atletico will have the chance to play for Spain. I hope that in a few years they are competing with Madrid and Barcelona.