REAL MADRID
Sherwood "one million per cent" certain that Bale will stay
Tottenham's youth team coach told the 'Daily Star' that the Welshman was "fantastically happy" at Tottenham.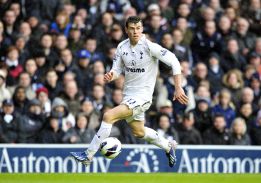 Tim Sherwood insisted that Gareth Bale would be staying at White Hart Lane this summer. Tottenham's youth team coach and former player told the 'Daily Star' he was "one million percent" certain.
"Gareth's fantastically happy at Tottenham. I see him around the training ground every day. He's got a good relationship with the manager and loves his team-mates. They show him the respect that he deserves and he gives it back to them," Sherwood said.
''I don't see him banging the door down trying to get a move. I believe one million per cent he will stay.There will be a lot of clubs wanting to take Gareth but he's 23 and has good advisors. There's time for him to go overseas or to another Premier League club but I think he needs to stay here,'' he said about Real Madrid's number one summer target.