LIGA BBVA | REAL MADRID
United, City, PSG and Monaco join chase for CR7
Manchester United, Manchester City, Paris Saint-Germain and Monaco hope to prise the forward from Real Madrid when his contract expires in 2015.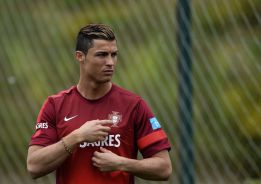 Cristiano Ronaldo's contract renovation not only has Real Madrid on high alert but also several of the world's richest clubs. Manchester United, Manchester City, Paris Saint-Germain and Monaco are dreaming of landing the Portuguese forward when his contract comes to an end in June 2015.
Particularly keen are Dimitry Rybolovlev's Monaco, who see CR7 as the ideal addition to a squad which already features Radamel Falcao, Moutinho, James Rodríguez and Carvalho.
All four clubs are prepared to offer the player a signing on fee of 60 million euros together with an annual salary of 23 million euros and allowing him complete control of his own image rights (at the moment, Madrid retain 40%). That would make Cristiano the world's best-paid player – which Florentino has also promised to do by offering him a contract extension although with a far inferior proposal: 15 million euros net per season (five million more than he earns at the moment) plus performance-related bonuses. Florentino never tires of stating that the big danger facing football today is the money being bandied around by sheikhs and multimillionaire Russians and it is precisely these rivals who the president is up against in his bid to keep Cristiano at the Bernabéu.
The Portuguese ace resents the fact that during his four years at the capital club, he has not been approached once above renewed terms while Barcelona have boosted Messi's pay packet six times. Right now, Cristiano is in no rush to reach an agreement. But he feels aggrieved that the issue has been left to this late stage and worse, that Madrid's priority seemed to be securing the transfer of Neymar – an operation which Florentino told Cadena Ser would cost in the region of 150 million euros.