TRANSFERS | FALCAO
Atlético and Monaco reach a deal for Falcao: 45 million euros
The striker is signing for four seasons with an annual salary of 14 million euros tax-free.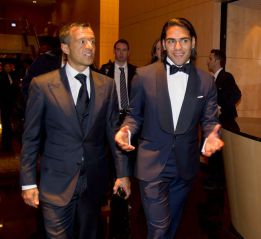 Atlético Madrid and Monaco have reached a deal for the transfer of the Colombian Radamel Falcao to the club from the Principality. Monaco, owned by businessman Dmitry Rybolovlev, will pay 45 million euros for the player, who is signing for four seasons and will earn 14 million euros a year, tax free.
The striker passed his medical on Tuesday and then, together with his agent Mendes, met Rybolovlev. In principle the meeting was only to thrash out the terms of a possible contract, and once this was done speak to Atlético about the transfer. Things moved faster than expected however and the two clubs reached an agreement by phone on the transfer price.
Falcao agreed last season to stay with Atlético Madrid provided he would be allowed to go this summer if he helped the club qualify for the Champions League. With the goal met Atlético felt morally obliged not to demand the full buy-out clause of 60 million euros, and merely seek a reasonable price for the player.
In principle Falcao has a clause in his new contract allowing him to leave during next season.