BARCELONA
Barcelona have a problem with the Alcántara brothers
Thiago could leave the Catalan club for 18 million euros as his buy-out clause has fallen dramatically due to a lack of first team appearances.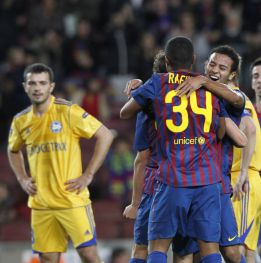 Barcelona need to face up to a double problem this summer: the Alcántara brothers.
The elder of the two, Thiago, renewed his contract two years ago in June 2011 but the deal contained a clause stating that, if he did not play a certain number of matches, his buy-out clause would drop dramatically, from 90 million euros to 18 million.
The midfielder has not featured as much as he would like under Tito Vilanova, starting just 19 games all season, plus 14 appearances as a substitute, and he is therefore free to leave Barcelona if a club can come up with the 18 million euros, a bargain for a player of his quality.
Manchester United, City, Chelsea and Bayern Munich have all expressed interest in him.
The club have another problem with younger brother Rafinha, who plies his trade in Barça B. The 20-year-old is set to be promoted to the first team next season, and his contract expires in 2014. The club are now working on his renewal, but are also considering sending him on loan, because it is obvious that he will not be able to play regularly in the first team.
Depending on what happens with Thiago, it is not out of the question that Rafinha, who is very close to his brother, will follow in his footsteps on the way out of the Camp Nou doors.