REAL MADRID | AGUERO
City CEO: "Agüero is not leaving"
Ferran Soriano told The Mirror that the Argentine will stay at the Etihad stadium despite interest from Madrid, and confirmed that Isco was one of their transfer targets.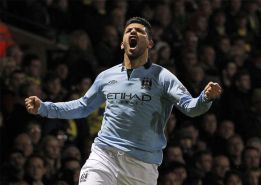 "Kun Agüero is not leaving Manchester City" was the resounding response from chief executive Ferran Soriano when asked about the Argentine striker's future during an interview with The Mirror.
"I can be really clear on this one, he's not leaving," said Soriano.
"This has gone on and on and on. We've had discussions with Sergio and his agent about several things and he has never expressed the willingness to go. We have never had an offer and even if we had an offer we would say 'no'."
The Spaniard said he was happy with the size of the City squad but indicated there would be a lot of transfer activity at the club over the summer.
"We want to keep a squad of more or less the same size, 22 or 24. New players will come and some of our players will go."
Among the players City are interested in signing is Malaga midfielder Isco. When asked if City were close to sealing any signings, Soriano responded:
Yes, we are. The way we want to work is identify the positions we want to improve, identify the candidates and then work on that. We're at the closing phase with several of them but the closing phase can take one week or sometimes three months.
"Sometimes it is very difficult to execute deals early in the window. Sometimes it's better to wait. But we know what we want and it's our responsibility and risk to execute earlier or later."
Roberto Mancini, who was sacked by the club earlier in the month, complained that City were not ruthless enough in the transfer market last summer, which he believed lead to them missing out on the signing of Robin Van Persie, who joined Manchester United and played a crucial role in Alex Ferguson's side winning the Premier League title back from the Blues.
However, Soriano dismissed the Italian's complaints.
"It would be wrong to decide what we want two weeks before the window is closed. That's impossible.
"But I think, personally, it's unfair to criticise anybody for what happened last summer.
"Last summer there were some players who were signed in the last weeks. But they were all players the manager had asked for.
"Maybe there were other players the manager had also asked for that were not signed. But it doesn't just work like this.
"It's not only the desire of the manager, it's the market, the competition, the prices.
"And, by the way, regardless of all of this, the squad we have is a fantastic squad – not only in England, in Europe, so nobody should complain about the players we have."