TRANSFERS | THIAGO SILVA | BARCELONA
Tito Vilanova only wants one central defender: Thiago Silva
Currently it seems unlikely that the PSG player would move, but a Barcelona offensive cannot be ruled out.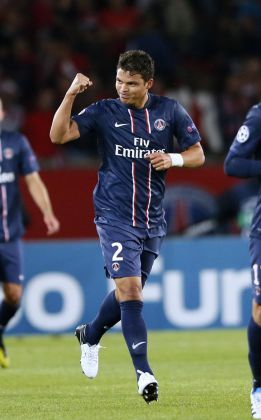 It's an old summer dream that is yet to become a reality. The name Thiago Silva has always been on the lips of Barcelona's sporting directors when they discuss new signings, but in 2008 it was Milan who paid 10 million euros to Fluminense and then the player was off to Paris in a multi-million euro move with Ibrahimovic (around 70 million for the two), leaving Barça dreaming of what might have been, or maybe still could be.
For Tito Vilanova there's no other central defender out there. He was offered the possibility of signing Mats Hummels, currently with Borussia Dortmund, but Tito said "Nein". The German is "very good" but he's too similar to Gerard Piqué. For the Barça coach the current roster of central defenders (Puyol, Piqué, Bartra, as well as Mascherano and Adriano, who extended his contract to 2017) will have to perform to cover the defensive needs of the 'culés', one of the weakest points of the team this season. But there would be room for Thiago Silva, if he can be persuaded to move.
Andoni Zubizarreta, Barcelona sporting director, and Josep María Bartomeu, his vicepresident, are waiting to see what happens in Paris Saint Germain in the next few days. Ex-player Leonardo, in charge of putting together the squad at PSG for next season, wants to see what finally happens to Carlo Ancelotti (close to signing a deal with Real Madrid) and what might then happen with some of the star players in the side. In principle the Qatari owners of PSG, who control the purse strings, have said "nobody moves"; but it's a long time from May to August and a lot of water is still to pass under the bridge.
The bosses at the Nou Camp are relaxed about the situation. They know any move for the player would be complicated. The player's agent said during the spring, "There's no chance of Thiago Silva moving this summer. The club don't want to sell him. There's been no contact this year from Barça, but it is true that in previous years there has been". This was taken as an invitation to start negotiating for the player by officials at Barcelona.
In addition to the five defenders named earlier can be added: Andreu Fontàs (on loan to Mallorca this season) and Marc Muniesa (in the 'B' team), however it appears that neither has a guaranteed future at the club. Barcelona are seeking offers for the former and are yet to make an announcement about the second.