REAL MADRID
Juventus and Real Madrid in talks over Lichtsteiner
The Italians are interested in signing Madrid striker Gonzalo Higuaín - and are set to include full-back Stephan Lichtsteiner in the deal.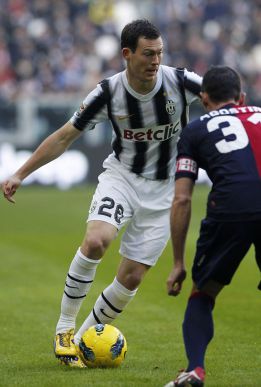 Italian side Juventus are interested in securing the services of Real Madrid striker Gonzalo Higuaín - and are set to include right-back Stephan Lichtsteiner in a deal for the Argentine. Aware that Madrid have slapped a 25 million-euro price tag on Higuaín, the Serie A outfit have offered 'Los Blancos' the 29-year-old Swiss international to bring down the fee for the striker.
Paris Saint-Germain coach Carlo Ancelotti, who has been heavily linked with a move to the Santiago Bernabéu, is an admirer of the defender. If the Italian is confirmed as the new coach at Madrid, Lichtsteiner will be on his wish-list of defensive reinforcements. For this reason, both clubs would be open to his inclusion in the negotiations for Higuaín, which Juventus director Beppe Marotta has revealed were scheduled to take place on Monday in the Spanish capital.
Speaking to 'Sky Italia' on Sunday, Marotta was evasive on the Italian champions' interest in Higuaín, saying: "[Manchester City forward Carlos] Tévez is possibly easier to sign, as his contract expires next summer. But we haven't done anything yet, either with Real Madrid or City."
Higuaín's brother, Nicolás, acknowledged in an interview with 'Tuttosport' that the player would not be against a move to the Juventus Stadium, stressing: "It wouldn't be a step backwards". Furthermore, he also confirmed that talks were set to be held this week to ascertain where 'El Pipita' fits into Real Madrid's plans. Having been subjected to whistles from the support - in addition to a promised contract renewal that has failed to materialise - it is certainly the case that the forward is not experiencing his finest moments at the La Liga side.