Mourinho was Ferguson's first choice for United
The Real Madrid coach rejected the move because his family want to live in London according to Portugal's 'Record'.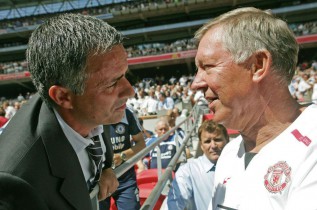 David Moyes was Alex Ferguson's second choice to take over from him in the dugout at Manchester United at the end of the season. That's the version of events according to Portuguese paper 'Record', who have published today that the job was initially offered to José Mourinho.
According to the Portuguese daily, Real Madrid's current coach turned down the offer from the 'Red Devils' at the behest of his family. Record, like many, take it for granted that Mou will be at Chelsea next season, but more than just the mutual love between coach and club, a big factor in the move is the city itself, London.
The British capital is where Mou's family want to base themselves; their daughter is going to study there, as revealed by the press last November. Furthermore, over the past few months Mourinho's wife has been seen regularly in the capital. The family's preference is the more glamorous choice of London over Manchester, and that was enough to sway the decision from Manchester to Chelsea.
Rooney. Mou's new Drogba.
According to the British 'Daily Mail', who are also convinced that Mou will be heading to Chelsea, the big news in the transfer market could be that the Portuguese coach is keen to take Wayne Rooney to Stamford Bridge, and make him his new talisman.
The English press have stated that the player has already asked for a transfer, and Mourinho's desire to work with him is nothing new. In 2010 when he installed at Real Madrid he made very positive comments about the striker, just after Rooney had made his first transfer request to United.