REAL MADRID | RAMOS
"I support Barça when they play against a foreign team"
The Real Madrid player was on Spanish evening entertainment show 'El Hormiguero', where in addition to talking football he admitted he had tried his hand at bullfighting.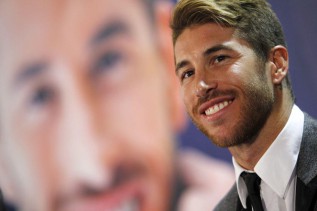 Sergio Ramos paid a visit to evening entertainment show 'El Hormiguero' [The Anthill] and was asked by presenter Pablo Motos if he celebrated when Barcelona suffered a defeat. The Real Madrid defender replied that "we are Barcelona's rivals, but when a Spanish team plays a foreign team I always want the Spanish side to win".
Ramos also had this to say:
Missed penalty against Bayern in the Champions League: "The day I don't feel up to taking a penalty I won't take it. If you don't take them you don't miss them. Nerves got the better of me and I put it where I did. Others missed too. The penalty spot itself wasn't great and I hit the ball with my supporting foot. It was a thorn in my side, and I saw how my mother and my brother were suffering. The experience makes you stronger, if you don't get over it you can't live and you can't be a professional like that. When you make a mistake you have to get over it and keep growing as a person".
Dinked penalty against Portugal in the European Championship: "The day I missed the penalty in the Champions League I said to my mother that I'd just chip the next one. I wanted to dedicate it to my family. I hit it like that to show I wasn't nervous at the big moments. I can make mistakes, like anyone at work. No-one expected me to dink it, so it was easier for me. That said, if the keeper Rui Patricio had stood still I'd have had to walk back to Spain..."
Del Bosque suffering: "It's at times like that that the coaches have it worst, because of the repercussions. Once you're past the group phase one bad game means you are out. We practiced penalties constantly. Piqué, Xabi Alonso and a couple of others stayed behind to practice after training. I said to Vicente that if I had to take one I'd just chip it and he said I wouldn't dare. It's history now, I can show it to my children".
Dropped Copa del Rey: "That's a moment I'll never live down! I laughed about it though. The main thing was to win the trophy and enjoy it with all the Madrid fans".
Change of image: "I like a bit of personal grooming. Image is important".
Bull-fighting: "I've always liked bull-fighting. I used to go to the country with my friend Talavante to kill a couple of bulls and one day I went in with a Miura bull for a couple of passes with the cape, just to get the monkey off my back".