REAL MADRID | XABI ALONSO INTERVIEW
Alonso: "The dressing room is not divided, we're a team"
The Real Madrid and Spain midfielder is the cover star of the latest issue of Vanity Fair magazine, in which he speaks about Madrid's season and his life in the Spanish capital.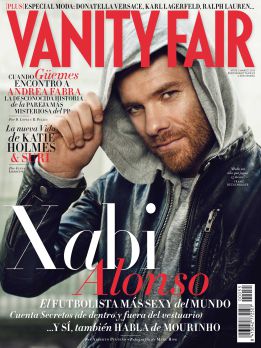 Xabi Alonso is the cover star of the March edition of Vanity Fair magazine. In an in-depth interview, the Real Madrid and Spain midfielder, dubbed "the sexiest footballer in the world" by the magazine, talks about current goings on at Madrid and his life outside football in the Spanish capital.
The Madrid dressing room: "It's not divided. I am informed of everything and I can see the difference between reality and what gets said in the press. We cannot spend our whole time denying everything that comes out. We are, and should be, a team, we have to keep sticking together, because this is a team sport."
Casillas and Mourinho: "They maintain a professional coach-player relationship, but they don't have to go out for beers with each other."
Is Mourinho between a rock and a hard place? "He is a clever man and he has always been able to deal with criticism. When results are good everything seems fine and dandy, when they are bad, it is presumed that there are conflicts, personal disputes and problems. But of course this year we are not happy with ourselves because we are losing many more games than we are used to."
What is Mourinho like? "He is a very, very good coach, one of the best in the world. He has helped me grow personally and professionally. He is excellent at empathising with the players. I can tell you that first hand. When you see him every day and get to know him, he wins you over. I'm talking about the coach-player relationship, outside of that, I don't know what he's like."
Alonso's pet hates: "I hate rude people, people who are always showing off. I also cannot deal with lateness."
Playing for Madrid but being a proud Basque: "I have never had a problem with it, I deal with it normally. If it offends anyone, that's their problem, not mine."
Losing control: "Sometimes I lose it on the pitch, but not very often. It's not my style. I try not to perform theatrics on the pitch because I hate it when I see other players do it."
The insult he hates hearing the most: "When they say I am lazy. Some people are always trying to wind you up."
Was football often talked about at home when you were growing up? [his father, Miguel Ángel, played for Barcelona, Real Sociedad and Spain, and his brother, Mikel, was also a professional footballer] "Not always, but of course we watched games with my father and we would discuss them together, although he wasn't the type of player who would talk about battles between players nor give us advice on how to improve. Although, of course, he had a lot of influence on us, I never thought I would end up playing for Real Madrid or would win the World Cup. That wasn't my objective, it was just a natural consequence. I never thought I would achieve anything more than what my father achieved, I thought that would be very difficult."
Is it harder to score a goal or bring up children: "Both things are difficult .I love bringing up children. I try to be a great dad, my children are my main responsibility. Becoming a father completely changes your life, there's no instruction manual. I spend a lot of time away and in the end it is my wife who looks after them more. And that's very hard, not being with them every day. When I travel with the team we speak on Skype until they fall asleep."
His future: "I'm not sure if I will become a coach, I don't rule it out, but I would have to do my badges. I would like to go into the world of IT and software, maybe create apps for mobile phones."
One of the most difficult moments of his life - when his wife, pregnant with their first son, was about to go into labour when he had to travel to Milan for a Champions League game: "I spent hours mulling over what to do and in the end I couldn't do anything else than accompany my wife and be present for the birth. I took the right decision and I'd do the same again."
His eldest son still does not know he is a footballer: "One day he came home and asked me "Daddy, do you know Cristiano?" I told him he was my team-mate. And when people stop me on the street and ask me for my autograph, he says: "Daddy, is that your friend?"