CHAMPIONS LEAGUE | AC MILAN - BARCELONA
"Messi is already better than Maradona and Pele"
Galliani led the Milan group in the directors' lunch at Restaurant Giannino's, while Sandro Rosell headed up the Catalan contingent.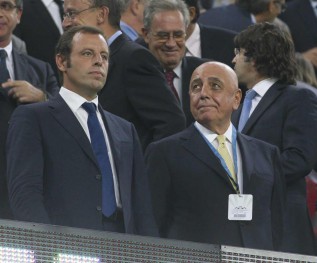 With everything ready for tonight's big game between Milan and Barcelona in the Champions League quarter final, and in spite of the importance of the clash, the most important thing for the clubs today was the good relationship the two institutions enjoy, with the directors meeting for a slap-up lunch at Giannino's, one of Galliani's favourite haunts.
Adriano Galliani, managing director of AC Milan, and Sandro Rosell, Barcelona president, presided over the lunch, and the good relations between the two clubs' top brass extended to the fans on the streets of the city, with good natured rivalry abounding and few, if any, incidents. Italian Galliani praised his rivals to the heavens: "We're playing the best team in the world; that's why they are favourites, but the underdog can still win. In my opinion Messi has already surpassed Maradona and Pelé".