REAL MADRID | SERGIO RAMOS
Sergio Ramos: "It's not my style to blame people for mistakes"
"From now on we have to be more united than ever because we've got some crucial games coming up," added the Madrid vice-captain.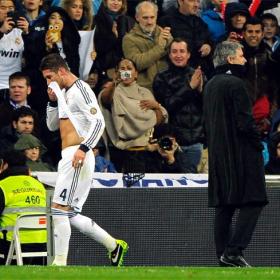 Sergio Ramos was not in the best of moods after he was sent off in the first half of Real Madrid's 2-0 win over Rayo Vallecano on Sunday.
Ramos, playing at right-back for one of the first times this season, scored Madrid's second goal but just moments later was sent off for receiving two yellow cards in little over a minute, the first for a foul on Leo Baptistao and then for a deliberate handball.
In a post-match interview, the Spain international and Madrid vice-captain criticised the match referee José Luis Paradas Romero for the sending off, and then had some poignant words for his coach, José Mourinho, who criticised him for being at fault for Danny Welbeck's goal for Mancehster United in the 1-1 draw with Madrid on Wednesday.
"It's very easy to send Sergio Ramos off, it's quite worrying" he said regarding his sending off.
On Mourinho's comments on Wednesday, Ramos responded: "It's not my style to point the finger at anyone for a mistake. That's how I was brought up."
The sending off: "I'm hurt by the situation. It's unusual to send someone off for two cards within two minutes. I'm not the type of player that goes in for hard challenges or who makes tackles with any malice. I felt awful for leaving my team-mates with just ten men, meaning we had to make changes. Spanish football deserves great refereeing performances, because we have great players."
Paradas Romero: "Referees have to know how to interpret incidents. My first yellow card was totally undeserved. It's unfair to reduce a team to ten men because of that. It's very easy to send Sergio Ramos off, because of things I've done in the past or because of who I am. It's quite worrying. In the European Championship and in European competitions there is another type of refereeing."
Criticism by Mourinho for his error for Welbeck's goal: "Everyone is free to say what they want. But I was brought up to never point the finger at anyone, least of all a colleague, when they make a mistake. From now on, we have to be more united than ever, because we've got some crucial games coming up."
His goal: "I dedicated it to my mum because of everything that she has been through, and because she supports me. We are very happy with the victory."
Games against Barcelona and Manchester United: "The two games are tremendously important. We are convinced we can get through both ties."