LIGA BBVA | GRANADA 1 - BARCELONA 2
"What can you say about Messi? He's just extraordinary"
Barcelona's stand-in coach Roura spoke after his team's win in Granada.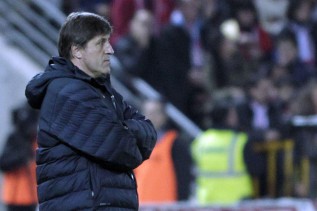 Roura spoke to the press after his team's win in Granada and praised the attitude of his players: "I'm proud of them". He also said that the club would continue to help Alexis and said that Messi, who scored his 301 goal with the club, was "extraordinary".
The Match: "We had suffered, as it's logical that we would. We knew how tough Granada would be, and how difficult it is to come here. They are a physical team, but maybe we needed to be a bit calmer when they were on top. It's a good result but that's not the only good thing we can take from tonight. We weren't sharp in front of goal. But these players have their pride, we fought back after going one down and we managed to come back. Obviously it's nerve wracking on the bench. They had nothing to lose and put the pressure on. At one point it seemed like the clock had stopped. It's normal to suffer in those circumstances".
Players rested and rotated: "I've talked about how sometimes, depending on the match, the opponents, and the effort the players have put in we we'll make changes. Today we decided to play Cesc and let Andrés rest.
Adriano and injuries: "We took Adriano off as a precaution. I don't think any other player has a problem".
Messi and his statistics: "What can I say?! It's extraordinary. I believe he hadn't scored against Granada... 301 goals from Messi, it's just incredible. And in this game, where we weren't firing in front of goal, and he's fixed that for us".
Alexis: "He scored last week and he had chances today but they didn't quite materialise. But we won't let our guard down, we'll support him and we'll get his confidence back".
Keeping a clean sheet: "There is always something to improve. We weren't relaxed at the end. Our opponents are playing too, they do their job, they were good today. We study them. We knew today that they would play tight and shut down the spaces. They were dangerous and they kept things tight".
Champions League against Milan: "Obviously we're leaving happy, and we're proud of the players. As we said, this is a tough ground to come to. It was tough for us, but we came back to win and that's very positive for us".