REAL MADRID | TRANSFER MARKET | STRIKERS
Real Madrid start sounding out the market
With Benzema and Higuaín lacklustre up front the Spanish giants are beginning to investigate possible replacements.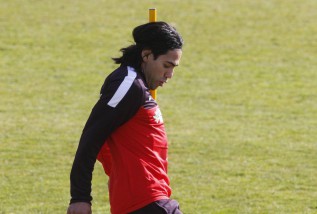 These are the names that Real Madrid are running the rule over.
Dzeko - Mou wanted him in 2010-11
Dzeko was one of the players Mou was keen on in 2010-2011. In the end Manchester City paid Wolfsburg 32 million euros in the winter transfer market. He's scored 18 this season (one in the Bernabéu) in 39 games. Rumours in England see him leaving the club this summer.
Agüero - An old Pérez desire
The Real Madrid president has always had a soft spot for the Argentine. He wasn't signed last year because of the "non-aggression" pact between Madrid and Atlético. City paid 45 million euros for him and he's scored 12 goals in 35 games. The English club may end up being the perfect bridging club.
Cavani - Half of Europe on his tail
One of the strikers of the moment: Manchester City, Juventus, Bayern, amongst others are interested in him. His stats are scandalous, 28 goals in 31 games. Napoli simply refer to his buy out clause of 60 million, but he himself has shown interest in a possible move: "Madrid and Barcelona are teams that tickle the imagination".
Neymar - The Fat Lady still to sing
Madrid could still try and sign the Brazilian despite Barcelona's claims to have already made payments of 10 million euros. Madrid also apparently had soemthing on the table and Neymar renewed with Santos until 2014, increasing his buy-clause to 70 million euros. And now he's fluttering his eyelashes at PSG. He's currently on nine goals in 11 games.
Yarmolenko. Karanka and Rui Faria are tracking him
One of the players Mou likes. Karanka and Rui Faria were spying on him in Sevilla at the Ukraine - Norway game recently. He plays for Dynamo Kiev and is under contract until 2015. He's 23 and has a buy out clause of 22 million euros. He's scored eight goals in 33 games.
Falcao - Chelsea well advanced in talks with his agent
His contract finishes in 2016 and he has a buy out clause of 60 million; the problem for Madrid is the same one they faced when trying to sign Agüero, the "non-aggression pact". Chelsea are apparently already well advanced in talks with his agent. But Falcao himself wants to stay in the Spanish capital... This season he's scored 23 goals in 24 games.