BARCELONA | JORDI ALBA
Jordi Alba: "As well as a great player, Messi is a great person"
"I don't think Callejón broke any codes, but he is the only one who saw it [the alleged altercation between Messi and Karanka]," said the left-back.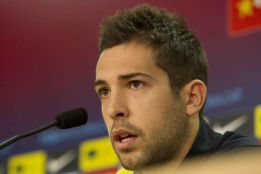 Fresh off the plane from Spain's friendly with Uruguay in Doha, Jordi Alba addressed reporters to discuss goings on at Barcelona and looked forward to the club's league game with Getafe on Sunday.
Playing for Spain:"I'm very happy to play but of course it was a long journey and we need to rest so we can be in perfect condition against Getafe, which I'm sure is going to be a good game."
Playing Getafe at 12:00 CET: "Of course we are not used to playing at this time but there are some players like me who have played in the Second Division and who have played at that time. Even though we are not used to playing then I'm sure it won't be a problem for us."
Leo Messi renewing his contract: "It's great news for all Barcelona fans because he has proved that he is the best player in the world, and the best of all time. It's great news for us and we have to try and make sure he is as comfortable as possible here."
Training and playing alongside "the best of all time": "I have had the misfortune to face him as an opponent and so I already knew what he was capable of. When you play with him you are more relieved because he is in your team, but I have not seen anything here that I hadn't seen before, he's a player that makes the difference in every aspect and having watched highlights of great players through history I have no doubt he is the best ever."
Getafe in strong form:"They are difficult opponents, as well as being very aggressive they have quality players who like to play good football. I'm sure they'll cause us problems like they always do but we hope we can beat them."
The public image of Messi after the alleged bust ups with Karanka and Arbeloa after the Clásico:"Apart from being a great player, I can assure you Leo is a great person, and a very humble guy despite everything that he has won, including four Ballon d'ors. It doesn't matter what people say of him, we all know how he is and we all have to remember that. We'll only talk about football, what other people want to say is up to them."
Racist taunts aimed at Dani Alves:"It is never nice when people insult one of your team-mates or a fellow professional, especially for something like this [race]. I've never seen a team-mate walk off the pitch for that, I would have to put myself in their situation, but it's not a nice situation to be in."
Callejón talking about Messi's behaviour after the Clásico:"I don't think he broke any codes, but he is the only one who saw it [the alleged altercation between Messi and Karanka]. I personally saw nothing and neither did any of my team-mates. I don't know if we should give so much importance to this, it should stay on the field."
Atlético Madrid:"I have always said that the second placed team is Atlético, even though everyone keeps talking about Madrid and Barcelona. Atleti are closer to us in the league and we should give greater importance to other teams in other aside from Real Madrid and Barcelona. Although both are massive clubs, they are not the only ones."